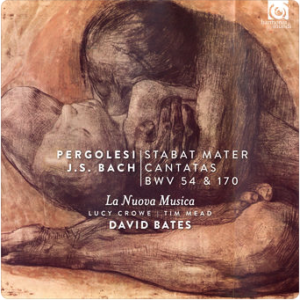 Our new CD of Pergolesi  Stabat Mater and Bach Cantatas BWV 54 & 170 is released on harmonia mundi today. LNM favourites Soprano Lucy Crowe and Counter Tenor Tim Mead are the soloists and of course David Bates is the Artistic Director.
To purchase the CD please click here or on the CD image.
Two of Bach's finest cantatas, both for solo alto, composed in Weimar (1714) and Leipzig (1726) respectively, are here coupled with Pergolesi's Stabat Mater of 1736, the eighteenth century's favourite sacred work. The gap between the austere Lutheran piety and searing Mediterranean emotionalism might seem unbridgeable. Yet Bach so admired the composition of his Neopolitan colleague that he made his own 'parody' of it to a German text. On this recording, La Muova Musica and it's two eminent soloists display equal mastery of both idioms.
If you need any more gentle persuasion, here are two videos filmed by Fly On The Wall during recording sessions at All Saints East Finchley in London.
Pergolesi Stabat Mater
Leader Bojan Cicic
Violin 2 Simon Jones
Viola Jane Rogers
Cello Jonathan Rees
Double Bass Timothy Amherst
Oboe d'Amore Patrick Beaugiraud
Organ Silas Wollston
Harpsichord Joseph McHardy
JS Bach BWV 54
Counter Tenor – Tim Mead
Leader Catherine Martin
Violin 2 Simon Jones
Viola 1 Jordan Bowron
Viola 2 Elitsa Bogdanova
Cello Jonathan Rees
Double Bass Timothy Amherst
Organ Silas Wollston
Harpsichord Joseph McHardy
JS Bach BWV 170
Counter Tenor – Tim Mead
Leader Bojan Cicic
Violin 2 Simon Jones
Viola Jane Rogers
Cello Jonathan Rees
Double Bass Timothy Amherst
Oboe d'Amore Patrick Beaugiraud (soloist)
Organ Silas Wollston (soloist)
Harpsichord Joseph McHardy