Orfeo ed Euridice by Gluck
La Nuova Musica presents a new live recording of Gluck's Orfeo ed Euridice, with countertenor star Iestyn Davies singing the title role. Once created to reinstate the "noble simplicity and calm grandeur" of ancient Greek culture, the opera continues to delight audiences with its direct and unpretentious appeal, epitomized by the world-famous aria Che farò senza Euridice. This live recording presents the original 1762 Vienna premiere version of the opera, with Gluck's exquisite evocation of the Elysian Fields from his 1774 Paris version as a small addition.
La Nuova Musica and its artistic director David Bates are among the most exciting young Baroque ensembles of our times. For their first PENTATONE recording, they work together with three exceptional vocalists: countertenor Iestyn Davies and sopranos Sophie Bevan and Rebecca Bottone.
"… a subtle, vivid and detailed performance of Gluck's original 1762 Orfeo ed Euridice at St John's by David Bates and La Nuova Musica was just as intense and pleasurable – and a reminder how under-performed Gluck is. This was all about sounds and textures, a physical enjoyment of the halfhidden, frisson-inducing details of a passing discord or suspension, a drawn-out cadence, a viola line."
Choir
Soprano: Jessica Cale, Amy Wood, Nancy Cole, Eleanor Minney,
Alto: Helen Charlston, Martha McLorinan, David Clegg, Francis Gush
Tenor: Ben Alden, Tom Castle, Peter Davoren, Ben Durrant
Bass: James Arthur, William Gaunt, Oliver Hunt, Philip Tebb
Language Coach: Matteo Dalle Fratte
Orchestra
Violin 1: Anaïs Chen (Leader), Julia Black, Kirra Thomas, Kinga Ujszaszi, George Clifford,
Violin 2: Rebecca Burman, Miki Takahashi, Jorge Jimenez, Naomi Burrell
Viola: Jane Rogers, Jordan Bowron, Ricardo Cuente
Cello: Jonathan Rees, Gavin Kibble, Kinga Garborjani
Double Bass: Tim Amherst
Harp: Karen Vaughan
Flute: Georgia Browne, Eva Cabellero
Chalumeau: Fiona Mitchell
Oboe: Leo Duarte, Lars Henriksson
Cornetto: Andrea Inghisciano
Bassoon: Joe Qiu, Inga Maria Klaucke
Horn: Alec Frank Gemmill, David Bentley
Trumpet: Peter Mankarious, Kirsty Loosemore
Philip Dale
Horn: Abigail Newman, Steve Saunders
Timpani: Adrian Bending
Harpsichord: Bernard Robertson
"Davies was the epitome of effortless meticulousness… Rebecca Bottone's Amore was teasingly taut and bright… Sophie Bevan sent rich ripples of sound cascading around the nave of St John's, Smith Square… Bates ensured that the music spoke of peaks of both pleasure and pain. Characteristically animated, the conductor drew every hue from Gluck's score… The Chorus produced a vibrant sound, by turns relaxed and wrought, warm with bright hopefulness and darkly Hadean. This was indeed a 'chiaroscuro' Orfeo in which Bates, La Nuova Musica and the soloists, especially Davies, shone shafts of light which pierced the darkness, leading to the arresting and exultant illumination of the opera's conclusion."
Stabat Mater by Pergolesi and Cantatas BWV 54 & 170
Two of Bach's finest cantatas, both for solo alto, composed in Weimar (1714) and Leipzig (1726) respectively, are here coupled with Pergolesi's Stabat Mater of 1736, the eighteenth century's favourite sacred work. The gap between the austere Lutheran piety and searing Mediterranean emotionalism might seem unbridgeable. Yet Bach so admired the composition of his Neopolitan colleague that he made his own 'parody' of it to a German text. On this recording, La Nuova Musica and it's two eminent soloists display equal mastery of both idioms. Counter-tenor Tim Mead is praised for his "alluring…consistently excellent" interpretations (The New York Times). With his "rich, mellifluous sound" (Guardian), he is recognised as one of the finest across the generations of counter-tenors. Described as having a voice of bell-like clarity with an impeccable vocal technique and powerful stage presence, Lucy Crowe has established herself as one of the leading lyric sopranos of her generation.
A superb disc of baroque vocal music
"Lucy Crowe and Tim Mead withstand comparison with the finest on disc. Their voices blend ideally in the duets, and their stylish phrasing in the arias is especially rewarding here. Crowe's runs and trills delight in her jaunty Inflammatus, while the emotional crux of the work, the alto's Fac ut portem, is sublimely phrased by Mead, easily a match for David Daniels and Andreas Scholl in earlier versions."

Hugh Canning – The Sunday Times

Fiery, sumptuous singing
"La Nuova Musica, under David Bates, sound lush and languid in two of Bach's alto cantatas (BWV 54 & 170). They let phrases sigh and breathe and supply a decent amount of bass under properly expressive melodic lines. In Pergolesi's Stabat Mater, the ensemble sounds sparser but not astringent, and I love the space and tenderness Bates allows in the aria Fac, ut portem Christi mortem. And the singing? Crowe and Mead are both in sumptuous voice, and both fiery in the most dramatic moments of the Stabat Mater"

Kate Molleson – The Guardian
---
Leçons De Ténèbres by Couperin
harmonia mundi HMU807659

Music for Holy Week.
François Couperin served as harpsichordist to Louis XIV and was famed for reforming elegant chamber music of the French court in the more impassioned Italian style of the time. For his Leçons de Ténèbres, a setting of the Lamentations of Jeremiah, "Couperin le Grand" fused devotional expression with a dramatic performing style embodied here by sopranos Lucy Crowe and Elizabeth Watts. Two Trio Sonatas and a Stabat Mater by Sébastien de Brossard round out this luminous programme.
Ravishing tribute by early music's finest voices

"… a subtle, vivid and detailed performance of Gluck's original 1762 Orfeo ed Euridice at St John's by David Bates and La Nuova Musica was just as intense and pleasurable – and a reminder how under-performed Gluck is. This was all about sounds and textures, a physical enjoyment of the halfhidden, frisson-inducing details of a passing discord or suspension, a drawn-out cadence, a viola line."

"Lucy Crowe is ecstatic and golden, ravishing in her upper flourishes and the way she pushes and lingers on those achy-sweet dissonances. In the second lesson, Elizabeth Watts is grainier, softer-edged, earthier. When they sing together in the third lesson, the combination is breathtaking. "

Kate Molleson – The Guardian
---
A Royal Trio | Arias by Handel, Ariosti & Bononcini
harmonia mundi HMU807590

A dazzling Royal trio. Founded in 1719 as the first opera company in the English-speaking world, the Royal Academy of Music commissioned and premiered some of the finest 18th-century operas, including Handel's Giulio Cesare. Renowned American countertenor Lawrence Zazzo is joined by La Nuova Musica and David Bates for a snapshot of the Academy's hits circa 1725, featuring arias by Handel, Ariosti, and Bononcini.
"The music director (Bates) and countertenor (Zazzo) are a pairing made in Handel heaven."

The Guardian (concert review)
---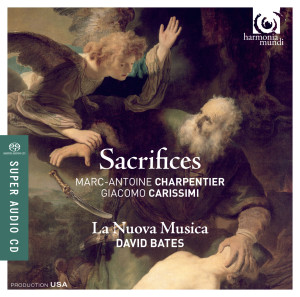 Sacrifices
harmonia mundi HMU807588

David Bates leads La Nuova Musica in "Sacrifices," a program of intensely dramatic oratorios from the middle Baroque: Giacomo Carissimi's Historia di Jephte; Marc-Antoine Charpentier's Sacrificium Abrahae and Le Reniement de saint Pierre, interspersed with instrumental music by Sébastien de Brossard.
The birth of the Oratorio was thanks to Giacomo Carissimi and his exceptional setting of Jephte. Along side this trail blazer, LNM perform Oratorios by Carissimi's Student M A Charpentier alongside delicious instrumental preludes by Sebastien De Brossard. Sebastien de Brossard: Sonate en trio
Sopranos: Sophie Junker, Mhairi Lawson, Alice Gribbin, Grace Davidson, High Tenors: Nick Scott, Daniel Auchincloss, Tenors: Simon Wall, William Balkwill, Thomas Heford, Baritone: James Arthur, Jonathan McGovern, Bass: Tim Dickinson, Violins: Bojan Cicic and Sabine Stoffer, Violas: Stephanie Helchelheim and Rachel Stott, Gamba: Jonathan Rees, G Violone: Timothy Amherst, Harpsichord/Organ: Joseph McHardy, Theorbo: Alex McCartney
"Without the harrowing visual element one can more easily appreciate how intensely moving these cantatas are in their own right. Sacrifice may be the theme but sensuality predominates.
Beautiful, cleanly etched singing and playing"

Richard Morrison – The Times, 26th July 2014
---
Dixit Dominus – Handel & Vivaldi
G. F. Handel (1685-1759) Dixit Dominus HWV232 | A. Vivaldi (1678-1741) Dixit Dominus RV807 | In furore iustissimae RV626

harmonia mundi USA HMU80758

David Bates leads La Nuova Musica in a pair of contrasting settings of Psalm 109 for harmonia mundi USA. Handel's masterful and ambitious HWV 282 was penned in 1707 during a youthful visit to Italy. Vivaldi's vivid and economical RV 807 (his third "Dixit Dominus") was long mistakenly attributed to Baldassare Galuppi; it probably dates from the early 1730s. Rounding out the programme is Vivaldi's dazzling motet for solo voice, in furore iustissimae irae, featuring soprano Lucy Crowe.
"The central solo cantata In furore giustissimae irae, RV 626, of Vivaldi will not be appearing on any amateur choral series; it's a punishingly difficult work, probably composed for the power of the male castrato, and it receives a speaker-shredding performance here from soprano Lucy Crowe. …..With clear studio sound from Harmonia Mundi, this release merits a place in any Baroque choral library."


Rupert Christiansen – The Daily Telegraph
---
Handel: Il Pastor Fido (1712)
harmonia mundi USA HMU907585-86

HWV8a (1712)

For its harmonia mundi USA debut, La Nuova Musica and David Bates present a true rarity: the original 1712 version of Handel's second London opera, Il Pastor Fido. Recorded in the beautiful acoustic of London's Temple Church, this recording features a stellar young cast and brings back to life a score teeming with theatre and invention.
'The performance is exemplary, crisply conducted by David Bates and illuminated by stylish contributions from the soprano Lucy Crowe, the mezzo Madeleine Shaw and the countertenor Clint van der Linde.'


Rupert Christiansen – The Daily Telegraph