Classical Women with Lucy Crowe
St John's Smith Square
12/11/19
David Bates and Lucy Crowe have a long acquaintance with each other and the fiendish and charismatic heroines of Handel and Mozart. They brought their considerable talents to bear on a stunningly composed programme of operatic arias and serenades at St John's Smith Square in London on this cold November night…….
La Nuova Musica set the scene with the dramatic Overture from the opera, electrifyingly pacy, but never losing subtle detail, dynamics or shape. Crowe was channelling Cleopatra in more ways than one: a golden dress and an even more lustrous tone. Provocative, flirtatious, desperate, every aspect of the Egyptian queen's psyche was on display. Her performance was astonishing……..
Sobs and laughter were musically conveyed within Handel's intention. The audience responded equally wildly to every piece, with rapturous 'bravos'…….
Crowe and La Nuova Musica made music as one, a moving and vital presence and a musical relationship to be treasured and developed even further……….
Read the full review
---
Classical Women with Lucy Crowe
Assembly Rooms, Bath MozartFest,
9 /11/ 2019
★★★★★ star review in The Times
Bath is no stranger to star singers. In the 18th century the castrato Venanzio Rauzzini drew in Europe's prima donnas for his concert series. He would have snapped up Lucy Crowe, whose exceptional Handel and Mozart recital graced this year's Bath Mozartfest. Her voice glittered as brilliantly as the Assembly Rooms' crystal chandeliers, and she packed in more than enough drama to have amused those gossiping Georgians.
If Crowe's soprano was once exquisitely pure and light, it has matured into something far more interesting. None of the beauty is lost. Nor her unshakeable technique: Crowe made the difficult athleticism of Ah! Se il crudel periglio from Mozart's Lucio Silla look easy, ending with a mock wipe of the brow. Her coloratura is pinpoint clear; those high notes ping like stars in a night sky. Her ornamentation is imaginative and eloquent. Yet her sound is now so much richer, the colours more varied. Expression is everything.
In Handel the emotion was visceral. Crowe poured out anguish as the abandoned sorceress Alcina in Ah! mio cor; the word "sola" exhaled in desperation, "pianto" a tear-filled cry. Spiky strings scratched through to the heart. The creeping disquiet conjured in Ombre pallide, also from Alcina, left a shadow in the soul. There was some hope, at least, in a finely judged Dove sono from Mozart's Le nozze di Figaro.
La Nuova Musica was on exhilarating form, from agile double bass to virtuosic leader. The instrumental interludes — even the ubiquitous Allegro from Eine Kleine Nachtmusik — were wonderfully fresh. And the conductor David Bates, his gestures fluid and natural, was entirely at one with Crowe.
The superb programme explored 18th-century women who, Bates hoped, might "resonate with contemporary thinking". At the end there were flowers for her, wine for him. With a wry look, Crowe whisked away his bottle and handed him her bouquet. Equality in action
---
Gluck – Orfeo ed Euridice
Live Recording at St John's Smith Square
May 2018 – CD Release October 2019
"… a subtle, vivid and detailed performance of Gluck's original 1762 Orfeo ed Euridice at St John's by David Bates and La  Nuova Musica was just as intense and pleasurable – and a reminder how under-performed Gluck is. This was all about sounds and textures, a physical enjoyment of the half-hidden, frisson-inducing details of a passing discord or suspension, a drawn-out cadence, a viola line."
Davies was the epitome of effortless meticulousness…Rebecca Bottone's Amore was teasingly taut and bright…Sophie Bevan sent rich ripples of sound cascading around the nave of St John's, Smith Square…Bates ensured that the music spoke of peaks of both pleasure and pain. Characteristically animated, the conductor drew every hue from Gluck's score…The Chorus produced a vibrant sound, by turns relaxed and wrought, warm with bright hopefulness and darkly Hadean. This was indeed a 'chiaroscuro' Orfeo in which Bates, La Nuova Musica and the soloists, especially Davies, shone shafts of light which pierced the darkness, leading to the arresting and exultant illumination of the opera's conclusion.
Read the full review…
---
Handel – Alcina
St John's Smith Square
22/01/19
Anaïs Chen (Leader) – photo by Nick Rutter
"Regular readers of my reviews may have noticed a degree of impatience in the matter of baroque opera. I apologise, but all its convoluted plots inhabited by psychologically implausible characters, all its adherence to a rigid code of hierarchy and formality, all its sheer prolixity, are deadening weights on the beauties of the music and can make a performance seem a long tedious grind rather than a delicious sensual pleasure. So I was well disposed towards conductor David Bates's decision to present a semi-staging of Handel's Alcina that eliminated one pointless subsidiary character and replaced the harpsichord-accompanied recitative that drives the narrative forward with a spoken narration, written by June Chichester and declaimed with elegance, wit and panache by no less a personage than Joanna Lumley. The success of this experiment was instant. Only the most pedantic of purists could object….."
Read the full review…
"As the titular enchantress, Lucy Crowe sings with beauty, imagination and pinpoint accuracy, even if she is more ingenue than temperamental femme fatale, while countertenor Patrick Terry as Ruggiero is at his exquisite best in the lilting Verdi Prati. Rebecca Bottone charms irresistibly as Morgana and Madeleine Shaw is a formidably spirited Bradamante. The most eloquent use of the Italian text comes from Christopher Turner, a cultivated, full-voiced Oronte,
and William Berger, sterling as Melisso. In arias featuring obbligato instruments, the players of La Nuova Musica get to share the limelight with the singer, and conductor David Bates favours elegance and warmth while pulling out the stops at moments of high drama."
Read the full review…
"Although the majority of events in the 2019 London Handel Festival do not begin until late March, the strong musical credentials that underlay La Nuova Musica's performance of Alcina undoubtedly raised everyone's spirits in the depths of January, and left them looking forward to far more from the composer in a few months' time……..As Ruggiero, Patrick Terry's countertenor was sublime, with the consistency it showed in feeling truly dreamy from start to finish being remarkable. As a result, his sound seemed to flow naturally through even the most technically demanding parts of his arias. As Bradamante, Madeleine Shaw brought great strength, clarity and warmth to her mezzo-soprano, while there was also good support from William Berger's Melisso and Christopher Turner's Oronte. The orchestra, conducted by David Bates, demonstrated great variations in pace so that the fastest arias revealed real panache while the slowest enabled the emotions to linger over them."
Read the full review…
Alastair Muir for The Sunday Times
"The highlights were Patrick Terry's heart-stopping accounts of the sublime love songs for Alcina's besotted swain, Ruggiero, and Christopher Turner's virile singing of Oronte, which made one look forward to his imminent Idomeneo for English Touring Opera. Rebecca Bottone dazzled with her diamantine brilliance in Tornami a vagheggiar, the show-stopping Act I curtain aria, often purloined in the old days by the heroine."
Read the full review…
"….Nor does (Teresa) May have any accomplices as sparkling and crisply captivating as the Morgana of Rebecca Bottone, a fine match for Alcina in terms of musical glamour. Patrick Terry brought ardour and expressiveness to Ruggiero, Alcina's latest prey, without sounding cloying or self-satisfied – indeed his legato was as cleanly-focussed in the ravishing 'Verdi prati' as it was controlled but heroic in the triumphant 'Stà nell'Ircana'."
Read the full review…
---
Venetian Vivaldi and Roman Handel
Wigmore Hall
11/12/18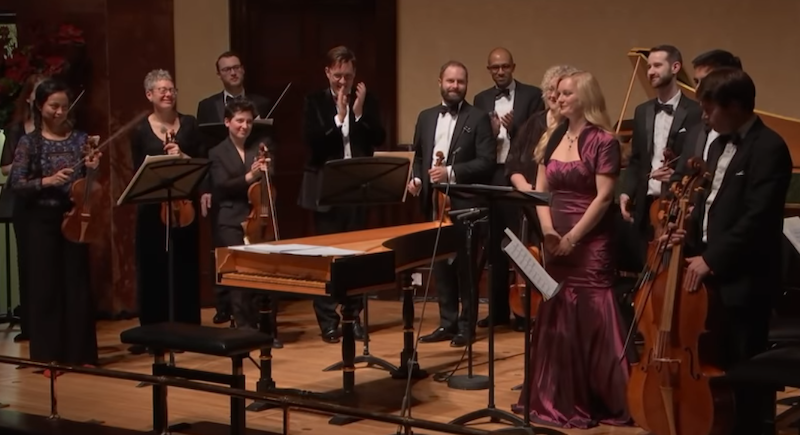 Anna Picard for The Times 4****
"Crowe's fioritura was as easy as laughter, her cadenzas as cheeky as a kiss. There is little room for embellishment in this fleet, sweet piece, but she scattered the glitter nonetheless………You could frame this programme of Venetian and Roman concertos, motets and arias as a game of dare. That would risk underestimating what Bates, Crowe and La Nuova Musica achieve when they choose stillness over flamboyant animation"
Read the full review…
---
Haydn Creation
St John's Smith Square
19/11/18
Robert Thicknesse for The Critics Circle
"A revelatory performance […] Lately, David Bates and his group La Nuova Musica have emerged from the melee of early music groups to real pre-eminence, thanks to the certainty of Bates's own taste and the conviction with which he achieves the sounds and effects and musical results he wants. Listening to the intentionally grainy edges, the groovily artisanal, wheezy winds and extremely distinctive string tone – all absolutely natural-fibre, but with the tensile strength of stretched silk – I got a distinct and very rare feeling that yes, this might actually be something like what Haydn had in his head. […] Everything was done with a terrific sense of enjoyment: I've rarely seen such a smiley bunch of performers. And the lodestone, in a performance with a far bigger, fuller and less namby-pamby sound than I've heard from a period band in a while, was an excitement in the process – of creation, and of its musical representation – something new around every corner, a pervasive feeling of wonder and rapture and surprise."
Read the full review……
---
Venetian Vivaldi and Roman Handel
Lichfield Festival
10/07/18
John Watson for Express and Star
"But my personal highlight of the festival was a stunning concert by the chamber orchestra La Nuova Musica with soprano soloist Lucy Crowe at the cathedral – her voice was simply glorious in a programme including Handel, Vivaldi and Corelli."
read the full review…..
---
Gluck Orfeo ed Euridice
St John's Smith Square
13/05/18
Richard Fairman for Financial Times 4****
"Countertenor Iestyn Davies took the title role here, singing with the plangency that is his trademark and also impressive authority. Sophie Bevan was his warm-toned Euridice and Rebecca Bottone an unaffected, not over-cute Amor. Bates takes a very expressive view of Gluck's music, which meant much sustained, thoughtful phrasing and some pulling-about of the tempo."
read the full review……
Anna Picard for The Times 4****
"Gluck's opera is remarkable for its concision. In this reading character and situation were presented in high definition. […] From the Rameauesque pomp of Ah! se intorno a quest' urna funesta and the agonised repetitions of Euridice's name by Orfeo (Iestyn Davies) to the bone-china delicacy of Gli sguardi trattieni by Amore (Rebecca Bottone) and the slow seduction of the Furies (with thunder and wind machines), this was a performance in which dissonance and consonance shimmered like petrol on water."
read the full review……
Claire Seymour for Opera Today
"And, this was indeed a 'chiaroscuro' Orfeo in which Bates, La Nuova Musica and the soloists, especially Davies, shone shafts of light which pierced the darkness, leading to the arresting and exultant illumination of the opera's conclusion."
read the full review……
Sam Smith for musicOMH.com 5*****
"La Nuova Musica's concert performance of the original 1762 Vienna version, conducted by David Bates, did not include any action or dancing, but this proved no obstacle to it being extremely moving. This is because it revealed how the music itself contains all of the drama and emotion when it is rendered effectively. Here, the strong rhythmic awareness that the ensemble demonstrated helped to keep the emotional colour wheel turning, and this was no better illustrated than in Act II when Orfeo confronts the Furies in his attempt to enter the Underworld. The playing revealed just how much of the ballet lies in the movement generated by the music, as opposed to any physical action. On hearing the chorus members confront Orfeo with the strength of their sound, it felt as if they could have only ever become less formidable had they begun to adopt even just a few arm gestures. Atmosphere was also generated by actually using a wind machine and metal sheet (played from the gallery) to create menacing and thunderous effects."
read the full review……
Ruth Hansford for Planethugill.com 4****
"Orfeo is a story about the power of music, and David Bates brought some wonderful things from the band. There was huge variety in the 'echoes', the spectacular storm (with thunder and wind coming from the SJSS gallery) at the beginning of Act 2, terrific brass playing throughout, the glorious 'Elysian Fields' music with Georgia Browne on solo flute, the arresting harp music from Karen Vaughan, and all the rest."
read the full review……
Clare Colvin for The Sunday Express 4****
"Instrumentalists and singers of the lively La Nuova Musica, under conductor David Bates, together with soloists Iestyn Davies as Orfeo, Sophie Bevan as Euridice and Rebecca Bottone as Amore, gave immaculate performances in the graceful setting of St John's Smith Square."
read the full review……
Robert Thicknesse for Opera Now
Also part of the festival, but tangential to the French theme, a subtle, vivid and detailed performance of Gluck's original 1762 Orfeo ed Euridice at St John's by David Bates and La  Nuova Musica was just as intense and pleasurable – and a reminder how under-performed Gluck is. This was all about sounds and textures, a physical enjoyment of the half-hidden, frisson-inducing details of a passing discord or suspension, a drawn-out cadence, a viola line.
There was real style here – real opinions about the idiom, the piece, the desired effect, and how to get it. This is pretty rare in the early music world here – not enough time, not enough rehearsal, not always the greatest players (though the singers are almost always superlative). Once Bates had whipped some laggardly violins into line this was very tight – giving Gluck's determinedly measured prosody real intensity of spring and bounce as well as the proper dignified gravity. Texturally it was brilliantly integrated, the choir sound beautifully homogenised, while the individual strands remained pellucid and clear.
Iestyn Davies is a bit too forthright for the sad and vulnerable Orfeo, though it's impossible not to admire his singing. It's a role that wants a great variety of tone – there are febrile emotions beneath Gluck's limpid surface, and Sophie Bevan as Euridice showed how to bring these out in the marvellously done, long passage where Orfeo leads his increasingly peevish spouse out of Hades. Rebecca Bottone's diamond-sharp Amor was really cute, her jaunty embellishments bringing an interesting sense of gods toying with poor mortals for their own fun.
---
Handel Teseo
St George's Hanover Square
12/04/18 & 14/04/18
Sam Smith for MusicOMH.com 5*****
"The programme stated that 'Tonight's performance aims to recreate the drama in the Perfection that would have been experienced by the audience in 1713 with scenes, decorations, flights, and machines'. If this seemed a bold claim, as it meant that this concert performance had to generate the same sense of excitement that the original would have achieved through flying dragons, transformation scenes and apparitions, the promise was fulfilled as the playing was electric, demonstrating immense energy and drive. Although La Nuova Musica, conducted from the harpsichord by David Bates, can take the credit for giving such a highly charged performance, it was entirely appropriate for it to do so because the score clearly leant itself to such an approach."
read the full review……
Robert Hugill for Planethugill.com 4****
"Teseo has a richly imaginative orchestration, and in many of the arias, Handel uses his forces of oboes, bassoons, strings and continuo (plus occasional flutes, recorders and trumpets) with skill and imagination. David Bates and his forces brought out all these fascinating textures, supporting the voices with a gorgeous tapestry of sound. This concert performance was a fine achievement from all concerned, and it was lovely to have the chance to hear this fascinating yet rarely performed opera in such an engaging performance."
read the full review……
Curtis Rogers for Classical Source
"This was Baroque Opera as it should be, realised in an assured and imaginative fashion, so as to allow the work's vivid contrasts and colours to emerge, and the artifice of its formal structure to serve the emotional dictates of the music. With performers of this calibre, such repertoire has a great deal more to offer and beguile audiences."
read the full review……
---
Purcell Dido and Aeneas
Wigmore Hall
07/04/18
Rebecca Franks for The Times 4****
"This certainly was a memorable concert performance of Dido and Aeneas by David Bates's La Nuova Musica, crammed on stage with theorbos spilling over the flower arrangements. The tartness, fragility and earthiness of the period instruments was beguiling, matched by a chorus sensitive to every word and a uniformly excellent cast, with Rachel Kelly and George Humphreys in the title roles and Anna Dennis a powerful Belinda."
read the full review……
Claire Seymour for Opera Today
"This performance of Purcell's Dido and Aeneas by La Nuova Musica, directed by David Bates, was, characteristically for this ensemble, alert to musical details, vividly etched and imaginatively conceived."
read the full review……
---
Handel Orlando
St John's Smith Square
01/02/18
Geoff Brown for The Times 4****
"Still, there's one way to bring sense to Orlando, one of the baroque period's numerous dips into the bran tub of Ariosto's epic poem Orlando Furioso. You do it in concert. You secure the impassioned countertenor Lawrence Zazzo for the title role. Lucy Crowe, lustrously powerful, signs on as the princess, Angelica. Bright talent fills out the cast and David Bates's La Nuova Musica fiddle, blow and tinkle with their usual pristine panache."
read the full review…… 
Sam Smith for MusicOMH.com 5*****
"The orchestra, conducted by its artistic director David Bates, played with a shimmering refinement that enabled lines to be delineated clearly without the output ever feeling anaemic. The balance, sensitivity and attention to detail were frequently staggering, and the various solo instruments cut through the air with spellbinding precision."
read the full review……
Robert Hugill for Planet Hugill  5*****
"David Bates directed a finely crafted performance from La Nuova Musica with many individual players contributing fine solo moments in addition to the wonderfully engaged sense of communal spirit."
read the full review……
Nahoko Gotoh for Bachtrack 4****
"The orchestra, directed from the harpsichord by Bates, played with incisiveness, precision and disciplined ensemble. […] it was gratifying to see St John's Smith Square packed with enthusiastic fans and supporters who seemed to enjoy it as much as I did."
read the full review……
Alexandra Coghlan for The Arts Desk
"There's a flamboyance and excess to period band La Nuova Musica's style that's all their own. Director David Bates favours broad dynamic contrasts, extrovert musical drama and lashings of ornamentation."
read the full review……
---
Spitalfields Music,
House of Monteverdi
02/12/17
Ivan Hewett for The Telegraph 4****
"The shouts of "War, war!" – "Guerra, Guerra!" – in his madrigal Or che' Ciel e la terra, flung out by the singers of the Erebus Ensemble, backed up by the furious strumming of lutes and excited violin roulades from La Nuova Musica, made it clear Monteverdi thought war was rather exciting. As for the "amorous" madrigals, they seethed with erotic passion tinged with despair, a combination beautifully caught by soprano Katherine Manley in Si dolce'l tormento."
read the full review……
Tim Ashley for The Guardian 4****
"Under David Bates, La Nuova Musica played with admirable dexterity and tangible enjoyment, and the solo singing was often superb."
read the full review……
Geoff Brown for The Times 3***
"These songs of love and war were punched out with fiery eloquence by the heavenly voices of Tom Williams's Erebus Ensemble, the soloists Katherine Manley and Ben Johnson, and the instrumentalists of La Nuova Musica, directed by the scooping arms and encouraging grins of David Bates. Manley's high-voltage soprano was an unstoppable force in Lamento della ninfa and the epic Il combattimento"
read the full review……
---
St John's Smith Square,
Mozart Mass in C Minor
13/11/17
Barry Creasy for www.musicomh.com 4.5****
"Crowe's own movements continued the perfection: the 'Kyrie' was appropriately plaintive, with the chest-voice in full-on velvet mode, and her liquid delivery of 'Et incarnatus' (whose flute, oboe and bassoon obbligato lines were delivered with perfect synergy and sensitivity, the baroque instruments making an unusual and enjoyable change in timbre) was very special indeed."
read the full review……
---
St George's Hannover Square,
London Handel Festival
Il Duello Amoroso
20/4/17
Michael Church for The Independent 5*****
Rare stuff from the seemingly inexhaustible treasure-house of forgotten Baroque music
"Presenting Handel's music in a London church in which the composer himself used to sit, with singers backed by a band of a sort he had specified, the London Handel Society's last concert in St George's Church, Hanover Square, proved a delight.
This time it was vocal duets by soprano Louise Alder and mezzo Emilie Renard with La Nuova Musica, under David Bates's direction; also including a duet by Handel's predecessor Agostino Steffani, this was for the most part rare stuff from the seemingly inexhaustible treasure-house of forgotten Baroque music."
---
Pergolesi & Bach Recording
Released March 24th 2017
Hugh Canning for The Sunday Times
Album of the week
"Starry names — most recently Sonya Yoncheva and Karine Deshayes, on Sony — have recorded Pergolesi's most popular piece, but Lucy Crowe and Tim Mead withstand comparison with the finest on disc. Their voices blend ideally in the duets, and their stylish phrasing in the arias is especially rewarding here. Crowe's runs and trills delight in her jaunty Inflammatus, while the emotional crux of the work, the alto's Fac ut portem, is sublimely phrased by Mead, easily a match for David Daniels and Andreas Scholl in earlier versions…..A superb disc of baroque vocal music.
read the whole review……

Kate Molleson for The Guardian 4****
"I was excited about this recording because it features two of my favourite baroque voices of the moment – countertenor Tim Mead and soprano Lucy Crowe, but it turns out the instrumental playing is just as enticing.
La Nuova Musica, under David Bates, sound lush and languid in two of Bach's alto cantatas (BWV 54 & 170). They let phrases sigh and breathe and supply a decent amount of bass under properly expressive melodic lines. In Pergolesi's Stabat Mater, the ensemble sounds sparser but not astringent, and I love the space and tenderness Bates allows in the aria Fac, ut portem Christi mortem.
And the singing? Crowe and Mead are both in sumptuous voice, and both fiery in the most dramatic moments of the Stabat Mater, but her nimble grace and charisma is occasionally weighed down by his more flannelly delivery. He sounds beautiful in the cantatas, though, searching out all the most resonant corners.
Alexandra Coghlan for Gramophone Magazine
"Anyone longing for a bit more moderation – a performance embracing both the rose and the yew tree in this exquisite Latin hymn – should find plenty to console in this thrilling new recording from La Nuova Musica.
In Lucy Crowe and Tim Mead the ensemble have both period specialists and singers with enough muscle and tone to temper stylistic precision with human drama….. Speeds tend to the swift, banishing any thoughts of sentimentality from a performance as sophisticated emotionally as it is musically."
read the whole review……
Yvan Beuvard for ForumOpera.com
"On ne compte plus les enregistrements du Stabat mater de Pergolèse. Composé seulement deux mois avant sa disparition précoce, il est difficile à des interprètes baroques de résister à la fascination qu'exerce ce chef d'oeuvre. Ecrit pour deux voix, cordes et basse continue, il est le plus fréquemment confié à deux voix féminines, encore que les contre ténors se soient depuis plusieurs années emparés de la partie d'alto, qui leur était certainement confiée à l'origine. C'est le propos de Tim Mead, qui gouverne ce CD, où le Stabat mater est encadré de deux cantates de Bach, écrites pour voix d'alto, évidemment.
On a connu des Stabat mater mièvres, sulpiciens, éplorés ou intimes. Ici, rien de tel, au contraire. On est de plain-pied dans l'opéra baroque en ce qu'il a de brillant, de lumineux, et démonstratif……"
read the whole review……
Fritz Balwit for AudiophileAudition
"A vivid and breathtaking rendition of Pergolesi's masterpiece……Overall, this performance stands out in every regard and can be considered as a yet another compelling statement regarding the lofty place of this piece of music……"
read the whole review……
Albéric Lagier for Musiczen.fr
"Un énième Stabat Mater de Pergolèse est annoncé, et débarque un CD dont l'intérêt est dans ses deux courtes cantates de Bach pour alto solo – en ouverture et en final. Tim Mead leur donne une vie palpitante, moirée, grâce à un timbre séduisant qui renvoie aux premières heures de gloire des contre-ténors anglais, sous l'ombre tutélaire d'Alfred Deller. Technique maitrisée, virtuosité de bon aloi, expressivité : tout y est, sauf la diction, pâteuse, hélas. L'alliance avec La Nuova Musica fonctionne : l'orchestre ajoute à la dynamique et à l'élégance de Tim Mead. Arrive le Stabat Mater… et Lucie Crowe. Et là, c'est à se demander si on entend les mêmes artistes et la même formation……."
read the whole review……
Luister Mee for gelderlander.nl
"Meestal staat het beroemde Stabat Mater van Pergolesi gecombineerd met andere werken van de vroeg overleden barokcomponist op cd. Het Franse kwaliteitslabel Harmonia Mundi voegt echter twee solocantates van Bach toe en dat is bij mijn weten nog nooit gebeurd.
read the whole review……
Dr. Ingobert Waltenberger for Merker
"……Die Klammer zwischen der lutherischen Strenge und dem opernhaften Stil des genialen Süditalieners zu spannen, gelingt dank der delikat schlanken und dennoch hochsinnlichen Interpretation durch das britische Ensemble La Nuova Musica und seinem künstlerischen Leiter David Bates. Und natürlich finden sich Parallelen zwischen Bach und Pergolesi, sind doch für unsere heutigen Ohren die innovativen Errungenschaften barocker sakraler Kompositionsweise einigender als stilistische Varianten geographischer oder religionsphilsophischer Natur……"
read the whole review……
---
St John's Smith Square, London
31st Christmas Festival
19th December 2016
Here are the reviews from our Concert at the 31st Christmas Festival at St John's Smith Square:
Bach – Nun komm, der Heiden Heiland BWV62
Bach – Jauchzet Gott in allen Landen BWV51
Mozart – Exsultate Jubilate K165
Haydn – Missa Sancti Nicolai
Lucy Crowe – soprano
David Blackadder – trumpet
Ruth Hansford for Planet Hugill
Baroque and classical delights ★★★★
"Bach cantatas, Haydn's St Nicholas Mass and a Mozart soprano showpiece in this delightful Christmas programme. David Peter Bates and La Nuova Musica provided us with four Christmas (or Christmassy) treats on 19 December 2016 as their contribution to the 31st Christmas Festival that runs for most of December at St John's Smith Square. Their programme consisted of two Baroque favourites by Bach followed by two Classical pieces by Mozart and Haydn, with the soprano showpieces bookended by choral works, performed with soloists soprano Lucy Crowe and trumpeter David Blackadder.
We started with Bach's Advent cantata, Nun komm, der Heiden Heliand BWV 62, written for Weimar and first performed in 1724. This was played with a muscular energy that made the opening sound like Handel, and this provided a stonking support for the voices; there were only eight of them but they made a beefy sound bigger than one would expect. The tenor recitative and aria sounded as though a baritone might have been at home in them; James Arthur's earthy recit made time stand still and Augusta Hebbert sang delightfully. The stage choreography could have been better managed, but aurally it was great ensemble.
Jauchzet Gott in allen Landen BWV 51 was first performed in Leipzig – a more extravagant piece for starry soloists, which we certainly had tonight. Lucy Crowe went from crazy coloratura to poised legato and David Blackadder from fortissimo to pianissimo in the twinkling of an eye. The orchestra of strings and organ added to the variety.
After the interval the orchestra was augmented by woodwinds and horns, and Crowe came on with a different frock (red) for Mozart's much-loved motet Exsultate, Jubilate. This piece was composed when Mozart was at a loose end between Christmas and the end of January 1773 and written for the castrato Venanzio Rauzzini who was singing in his opera Lucio Silla. Nowadays it seems to be the preserve of sopranos, and Lucy Crowe gave us a glimpse of how she would sing Susanna (Figaro), flirting with the oboe (and the audience) and breathily panting the 'Alleluias' in the style of the restaurant scene in When Harry met Sally. It all went down a treat.
Haydn composed his Missa Sanctae Nicolai at the same time as the Mozart, for the name day of Prince Nikolaus Esterházy. Writing church music was not in his contract with the Esterházys and this mass has a secular, wonderfully outdoorsy feel (with a 'Credo' that flew past at breakneck speed). We had to double-check that there were no trumpets or timpani in this arrangement – the 'pastoral' illusion was provided by the horns, oboes and double bass. The piece is scored for SATB soloists and SATB choir, and the singers were clearly enjoying it as much as we were.
This was popular repertoire through fresh eyes from Bates and colleagues – he made us listen as though we hadn't heard any of it before."
Nick Kimberley – Evening Standard
Baroque Christmas comfort for us heathens
Season fare: La Nuova Musica offered a festive evening
"……Bates conducted with a theatrical flourish, but rhythms were crisp and buoyant while the vocal solos eschewed excess rhetoric in favour of conversational directness raised to the level of song.
With Bach's Jauchzet Gott in allen Landen…… Crowe proved a sparkling soloist, delivering Bach's vocal elaborations with expressive naturalness, while David Blackadder's flourishes on baroque trumpet were volatile, almost to the point of wildness…….Crowe returned, having changed her frock for something marginally more restrained; her singing, though, was even more glorious. In Mozart's Exsultate, jubilate ("Rejoice, be glad"), she threw off Mozart's fantasticated coloratura with seemingly effortless ease. Yet she also imbued slower passages with unexaggerated sensuality, as if reminding us that Mozart wrote the piece while still a teenager, when his mind perhaps lingered on matters more sensual than spiritual……"
Read the whole review
Anna Picard – The Times ★★★☆☆
"……The soprano Lucy Crowe illustrated the difference between consort and solo singing in Bach's 1730 cantata Jauchzet Gott in allen Landen, biting into the consonants, sprinting daintily across two octaves of coloratura writing, blanching then adding blush to her tone in duet with the trumpeter David Blackadder. Bates's uptempo Brandenburgian approach gave a lift that continued in Mozart's Exsultate, jubilate, written for the castrato Venanzio Rauzzini. Crowe and Bates feminised the motet with playful cadenzas that hinted at The Marriage of Figaro and the C minor Mass.
Haydn's Missa Sancti Nicolai closed the concert, its mellow cheer offset by a sudden chill of dissonance in the Agnus Dei and enhanced by the warmth of horns and oboes, and the rich, firm singing of the mezzo-soprano soloist Anna Harvey."
Read the whole review (you need to register to read it online)
Brian Barford – Classical Source
"La Nuova Musica opened its programme with J. S. Bach's 'Nun komm, der Heiden Heiland', which connects us to an earlier world of belief, a chorale Cantata based on a hymn by Martin Luther. It opens in brooding fashion and slowly the mystery of the Supreme Ruler is unveiled to the World. The sense of mounting excitement at the onset of Advent is palpable. La Nuova Musica is a high-performance team with a chorus of eight and an instrumental ensemble of twelve. There was nothing under-nourished about the sound, however, and David Bates was at pains to ensure a richly textured and well-balanced performance.
'Jauchzet Gott in allen Landen' is one of the most brilliant of Bach's solo Cantatas notable for the virtuosity of the soprano part as well as the splendour of the trumpet obbligato. Lucy Crowe followed David Blackadder's example and her voice had a clarion ring to it. The abnormally high tessitura was negotiated with ease and she gave a dazzling account that was also moving in its simple praise of God. She was partnered by Blackadder with style and finesse, and the orchestral support was alert and vivid with Alexander Rolton an eloquent cellist.
Following the interval, numbers grew and Bates moved from the harpsichord to the podium. The Mozart, with its famous 'Alleluia', is a bravura soprano solo from start to finish. In its combination of agility and creamy, full-bodied tone, Crowe's voice is well-suited, with élan and radiance in equal measure and an abundance of high spirits.
Haydn's "pastoral mass" was probably intended for the Feast of St Nicholas. It has a pleasant bucolic character and shares imagery of shepherds in the fields during the Christmas season. It isn't vintage Haydn but has many lovely moments such as 'Gratias agrimus tibi', beautifully sung by Augusta Hebbert, and a joyfulness that benefited from brisk tempos, especially in the bookending dance-like movements. There was spontaneity in every bar, and as an encore was a brief but heart-warming Bach Chorale."
---
Wigmore Hall, London
Cavalli's La Calisto
"The singing was suave, wordy and quick-witted from the goddesses to the sidekicks Mercurio (James Newby) and Silvano (Edward Grint), and Mead's noble shepherd, while the pathos and comedy in Calisto's erotic downfall were exquisitely balanced by Crowe. After this and their delectable Acis and Galatea, how long before La Nuova Musica get the theatre run they deserve?"
"David Bates and La Nuova Musica gave themselves an extra challenge when performing the work at the Wigmore Hall on Monday 28 November 2016, as it was being given in a concert performance, though in fact the group's lively and imaginative approach to 'staging' and keen attention to musicality meant the performance really took wing…..At the centre of everything was Lucy Crowe's wonderful Calisto, growing from wonder to love to disillusion. Crowe's highly plangent voice brought great beauty to the arias which Cavalli gives his heroine, yet her demeanour and performance gave the music great intensity too. This was a highly concentrated performance, the still centre of a web of chaos….Despite Cavalli's luscious melodies (including a melting final duet for Giove and Calisto which resembles the closing duet from Monteverdi's L'Incoronazione di Poppea), there is a lot a recitative in this opera, and both singers and instrumentalists really brought it alive, the alert accompaniment from the wide array of continuo instruments complementing the lively dialogue from the singers. Whilst there were superb solo moments, the whole was very much a strong ensemble piece. All was directed in a lively and alert manner by David Bates, his having his back to the singers did not prevent him giving detailed direction and really shaping the music."
Robert Hugill – Planet Hugill ****
"The cast was one of the most spectacular at the Wigmore this year……The attention to detail across the players was breath-taking; equally riveting in the quieter, more beautiful arias (the ground bass accompaniment to Endimione's plaintive second act aria "Lucidissima face" was a particular delight) as in their dance passages and swelling ritornellos, and the addition of the harp to signify the gushing river was beautifully done."
"At the Wigmore Hall, London an outstanding Cavalli La Calisto, with La Nuova Musica,  La Nuova Musica enliven their work with the same adventurous spirit that one imagines would have motivated 17th century Venetian audiences…….we could enjoy detail, like the way different voices came together at the end of a line, hovering together before falling silent. We could also focus on the variety of musical invention, sometimes sublime and at other times, deliberately grotesque."
Doundou Tchil – Classical Iconoclast
"Dramatic urgency was apparent from the opening instrumental Sinfonia with David Bates's direction impelling the rendition with dance-like vigour, here and consistently throughout the interludes with the seven other members of the ensemble. He himself switched with easy facility between the harpsichord (for the filigree decoration of jauntier sequences) and the chamber organ (for more solemn or sustained episodes) aiding the colourful contrasts brought out by both the players and singers, and ending with the moving coda accompanying the transfiguration of Calisto into the constellation Ursa Major……In the title role, Lucy Crowe was wondrously versatile, ranging from chaste purity, to tremulous disgust and defiance as Giove first attempts to seduce her, and then to the flourishing of sexual awakening……All told then, the pleasing variety of the cast of singers and the stylish authority of La Nuova Musica's accompaniment combined in an imaginative and vivacious account of this early operatic masterpiece."
Curtis Rogers – Classical Source
---
Salzburger Festspiele 2016,
Bejun Mehta Cantata Recital
Hüpfen, springen, totentanzen
"Lamentiert wird in der Barockmusik nicht wenig: zum Beispiel aus Liebeskummer. Aber wenn's ans Sterben ging, gab man sich fröhlich – in der Gewissheit auf eine bessere Welt. Am Mittwoch lamentierte und frohlockte bei den Salzburger Festspielen Countertenor Bejun Mehta bei einem Kantaten-Programm. "Ich freue mich auf meinen Tod" – ein fröhliches Tändeln im Sechsachteltakt hat sich Bach in der Kantate "Ich habe genug" für die heute befremdlich anmutende Einstellung zum Lebensende ausgedacht. Mehta hat das so gefasst, dass man es so auf einen Nenner bringen könnte: hüpfen, springen, totentanzen.
Er weiß um das Besondere seiner Stimme. Sie ist in den Lagen jeweils charakteristisch gefärbt, die Tiefe wirkt viril, die höchsten Töne können so glockenhell-luzid angesetzt sein, dass sie wie von draußen hereinzuwehen scheinen. Wo andere sich bemühen, Klangfarbe von unten bis ganz oben ebenmäßig durchzuziehen, spielt er mit Kontrasten, lotet Grenzen aus. Manieriertheit ist dabei immer Thema, aber selbst außergewöhnliche Lösungen sind auf den Text zurückgebunden. Was Mehta so nebenbei an improvisierten Melodieauszierungen liefert, macht Staunen. Im englischen Originalklangensemble La Nuova Musica hatte Bejun Mehta gediegene Mitstreiter: Wie viel nicht in den Noten stehenden Zierrat hat die Oboe eingebracht! Das Klangrednerische und die Spieldisziplin des Kammerorchesters entspricht heutigem Standard. David Bates, der die Gruppe vom Tasteninstrument (Cembalo oder Orgel) aus leitet, bringt in die Interaktion mit dem Sänger viel eigenständige Gestaltung ein."
Bejun Mehta verführt zum Lamentieren
Eine tolle Performance, ein wunderschöner Abend
"Salzburg (APA) – Die hohe Kunst des Lamentierens kann von anrührender Schönheit sein. Der US-amerikanische Countertenor Bejun Mehta verführte bei den Salzburger Festspielen gestern, Mittwoch, in barocke Todessehnsucht und elegisches Liebesleid. Das Haus für Mozart war Schauplatz für einen Kantatenabend der Sonderklasse. Lange Standing Ovations.
Mehta zählt zu den führenden Countertenören unserer Zeit. Seine Stimme ist ein wahres Wunderwerk der Gesangstechnik – seine ursprüngliche Stimmlage war Bariton, heute erreicht sein Altus bei ungetrübter Makellosigkeit Höhen bis ins zweigestrichene e und gewaltige Volumina. Unbeschreiblich sein Ton, es liegt soviel Ruhe, Raum und Resonanz darin, als hätte er einen ganzen Chor samt Kirche verschluckt. Dazu führt er die Stimme mit solcher Anmut durch die ausladenden Koloraturen in den Kantaten Händels, Bachs und Vivaldis, dass das Publikum fast ohne Unterlass die Hände zum Zwischenapplaus gezückt hält.
Sein Kantatenprogramm, bei dem sich Mehta von La Nuova Musica, einem jungen britischen Ensemble für Alte Musik unter dem aufstrebenden Originalklangdirigenten David Bates, begleiten lässt, hat sich dem Lamento verschrieben. Eine eigene barocke Ariengattung, die religiöse Jenseitsmystik, wie in Bachs bekannter Kantate "Ich habe genug", ebenso miteinschließt wie liebestraurige Klagegesänge, etwa Händels "Mi palpita il cor" oder Vivaldis "Pianti, sospiri e dimandar mercede".
Das Lamento-Genre ist jedenfalls dem klaren Ziel verpflichtet, seine Zuhörer – zwecks Katharsis – durch einen ganzen Reigen von Emotionen zu stoßen. Und es ist dazu – jedenfalls in so fantastischer Ausführung – auch bestens geeignet. Todesseligkeit und Lebensmüdigkeit, Liebesleid und Leidenslust: Bach und Händel haben sie als zwei Seiten in großartige melodische Medaillen gegossen. Auch Bach senior übrigens, Johann Christoph Bach, der, wie wir heute wissen, "Ach, daß ich Wassers gnug hätte" komponierte sowie Melchior Hoffmann, dessen bewegendes "Schlage doch, gewünschte Stunde" so lange Johann Sebastian Bach zugeschrieben wurde, dass es immer noch eine Nummer aus dem Bach-Werkeverzeichnis trägt.
Zwischen den Arien wurden auch zwei instrumentale Stücke platziert, ein zauberhaft musiziertes Concerto Grosso von Arcangelo Corelli und die Sonata a 5 in B-Dur von Händel. Fein klingt das auf den Originalklanginstrumenten, aber ach, die Krux mit den Darmsaiten! Nicht nur, dass sie genauso oft gestimmt werden wollen, wie die Musiker zum Spielen anheben, der Solo-spielenden Konzertmeisterin schnalzte eine der Widerspenstigen auch noch inmitten des Adagio der Händel-Sonate davon – mit dem Resultat, dass die toughe junge Frau das Stück einfach auf dem Instrument einer Kollegin zu Ende spielte. Eine tolle Performance, ein wunderschöner Abend."
---
Brighton International Festival 2016,
Dido and Aeneas
The entire company deliver Purcell's opera with great skill and style *****
"Ann Murray's Dido once again shows the extraordinary quality of this seasoned performer's voice, unfailingly pure, lyrical and yet precise. But more than this, Murray delivers an emotionally charged performance that is a fine balance of that vocal skill with dramatic skill. Benjamin Appl is equally fine of voice, but as yet does not deliver the same sense of drama in his performance, however with eyes closed he is emotionally engaging.
The entire company deliver Purcell's opera with great skill and style and personally I enjoyed the dancers who went through courtly, erotic and angst-ridden beautifully, and at the moments when the score demanded dance. A word also for Charlotte Beamant who as Belinda delivered some very fine singing and exquisite ornamentation.
Billed as a concert performance this semi-staged production more that exceeded expectations."
Andrew Kay – Latest Magazine
The playing was crisp and focussed and supported the singing superbly
Purcell's opera, written as an entertainment for a girls' finishing school in 1689, is classical tragedy of war, duty, love and a hint of black magic thrown in for good measure.
It has always been a personal favourite of mine, so I was fascinated to see and hear what David Bates' La Nuova Musica would make of it. The singing was uniformly excellent as one would expect from an ensemble with Dame Ann Murray at its head. This world class talent did not disappoint, giving Dido depth and passion; her final despair almost too much to bear.
David Bates controlled and shaped the music with period instruments and gave the piece pace and a sense of urgency. The playing was crisp and focussed and supported the singing superbly. For me though, the modern dance and "dress down" of the cast did not quite work; the piece is so much of its time that these elements did jar slightly.
Andy Warren – West Sussex County Times
Purcell's score shone
In the title role of the tragic queen, Dame Ann Murray beautifully conveys the anguish of love and loss.
The world-leading mezzo-soprano made for a proud, profoundly sensitive queen opposite Benjamin Appl's statuesque Trojan Prince Aeneas.
Henry Purcell's Dido and Aeneas, at The Theatre Royal on Sunday night, was given a hit-and-miss modern edge in this production by La Nuova Musica. In contemporary pieces running through the drama, dancers Fionn Cox-Davies and Anna Finkel boosted the timeless, romantic, reflective air of the story taken from Virgil's Aenied. Working less well, was the modern dress worn by the chorus (a sailor in a paisley shirt, for example): combined with simple staging, it weakened their power. Not quite "harm's our delight and mischiefs all our skill".
Nonetheless, Augusta Hebbert and Martha McClorinan are aptly gleeful-at-pain as the two witches, plotting Dido's downfall and the failure of love. Purcell's score shone under the orchestra lead by Rodolfo Richter, featuring instruments from Purcell's time including theorbos played by Alex McCartney and Linda Sayce, and the viola de gamba played by Poppy Walshaw.
And in Dame Ann Murray's voice, the famous final lament lost none of its power.
Rachel Millard – The Argus
Musically this was impressive throughout
There was a time, not many years ago, when Opera was a key feature of the Brighton Festival. Whether the exigencies of finance have caused the change or a simpler matter of taste, Opera is a rarity these days. Moreover, fully staged performances are becoming rarer in themselves, so it was not unusual to find that Purcell's Dido and Aeneas was advertised as a concert performance. No problem there for there is little action in the work itself, the focus being essentially on the emotional state of the characters.
Musically this was impressive throughout. Ann Murray is a splendidly convincing Dido, bringing authority and passion to the part as well as musical sensitivity to Purcell's beautifully spun lines. Charlotte Beamont's lighter, crisper Belinda was a fine foil, encouraging in the opening scenes but deeply sympathetic in the tragic conclusion. Benjamin Appl was an unusually forthright Aeneas and drawing on a counter-tenor, the heroic ally voiced Rupert Enticknap, as the Sorceress was a stroke of genius. So far so good. There was no chorus but four solo singers added all the other, smaller, parts and the choral sections.
La Nuova Musica formed the instrumental band – nine musicians led from the muselar by David Bates.
larkreviews.co.uk
---
Göttingen International Festival 2016,
Berenice
a return to true directness of feeling and brilliance of musical execution

"Praise be, then, for a return to true directness of feeling and brilliance of musical execution from a team very welcome to the Stadthalle fresh from London success on the Sunday night, David Bates's La Nuova Musica. Berenice was the odd one out of the three newcomers to the festival in more ways than one; while the complications of love or sex in Imeneo and Susanna are down to the usual triangle – with two old men taking one side in the more unusual of the two scenarios – the plot here, such as it is, finds itself thickened by rather more interrelationships. You hardly need to bother with them when the sentiments of each aria are crystal clear, and the only question, once the burning one of how the hyperactive Bates himself has toned down his sweeping conductor's style since I last saw him (answer: very well), was how aptly cast his singers were.
Not ideally so, in the case of Mireille Asselin's eponymous Queen of Egypt (pictured above left with Bates). Hers is a bright tone, and dramatically Asselin has plenty of temperament. But you really need a creamier, warmer sound, a touch of the Renée Flemings (a big ask, I know). Musicality poured from Anat Edri's trousered Alessandro, too, but shaky technique failed to support her smoother, more lyrical numbers. Giuseppina Bridelli as Berenice's sister Selene was by comparison a little generic. Nevertheless it's a heady conclusion to a marvellous second act of mostly fierce, indignant arias when the accompaniment to Selene's delicious concluding number slips into distinct waltz metre – one of the earliest in music, surely.
Best were the countertenors, returning the voice part to grace after the lapse of Imeneo: I wanted far more of Michal Czerniawski's Demetrio after the superstylish runs and ornamentations of Act Two, but alas, he was musically demoted for the rest of the opera. Raffaele Pe's Arsace made his mark as countertenor number two. The real stars, though, were Bates himself and the plentiful, watchable personalities of his ensemble, not least his palpably committed first cellist and continuo member (no names listed in the programme).
David Nice – The ArtsDesk.com
Liebe gegen Staatsräson
Die Uraufführung von Händels Berenice, Regina d'Egitto am 18. Mai 1737 in Covent Garden stand unter keinem guten Stern. Zum einen schien der drohende finanzielle Ruin unausweichlich, da es nicht nur mit der "Opera of the Nobility" seit drei Jahren ein Konkurrenzunternehmen gab, das mit Händel um die Gunst des Publikums buhlte, sondern auch das Interesse an der Opera seria immer mehr nachließ. Zum anderen konnte Händel aus gesundheitlichen Gründen die Premiere nicht selbst dirigieren, da er sich noch nicht ausreichend von seinem Schlaganfall im April erholt hatte. Hinzu kam eine absolut verworrene und schwer nachvollziehbare Handlung, so dass das Werk nach nur vier Vorstellungen vom Spielplan verschwand. Auch eine Wiederaufnahme in Deutschland konnte sechs Jahre später nicht verhindern, dass das Werk in Vergessenheit geriet, obwohl es einige großartige musikalische Nummern enthält. Dies mag der Grund dafür sein, dass man sich bei den diesjährigen Internationalen Händel-Festspielen in Göttingen entschieden hat, diese Oper konzertant in der Stadthalle zu präsentieren. Die Begeisterung des Publikums bei dieser Aufführung spricht dafür, dass dieses Werk durchaus mehr Aufmerksamkeit verdienen würde.
Das Stück basiert auf einem Libretto von Antonio Salvi, welches bereits 1709 von Giacomo Antonio Perti in Florenz vertont worden war und das sich wahrscheinlich seit Händels Zeit in Italien in dessen Bücherschrank befunden hat. Bei der Umarbeitung nahm Händel allerdings so drastische Striche vor, dass die Handlung noch verworrener wurde. Ausgangssituation ist das Jahr 80 v. Chr. Die ägyptische Königin Berenice soll auf Wunsch von Rom den Prinzen Alessandro heiraten, um eine sichere Allianz mit Rom gegen den feindlichen König Mitridate zu bilden. Doch Berenice liebt Demetrio, der wiederum in Berenices Schwester Selene verliebt ist. Da Selene Demetrios Gefühle erwidert, will Berenice ihre Schwester mit dem Prinzen Arsace verheiraten. Dabei lässt sie Selene in dem Glauben, der versprochene Prinz sein Demetrio, weshalb Selene einer Verbindung zustimmt. Demetrio fühlt sich daraufhin von Selene betrogen. Da er es immer noch ablehnt, Berenice zu heiraten, lässt sie ihn in den Kerker werfen. Alessandro wird mittlerweile von den Römern bedrängt, Berenice zur Frau zu nehmen, will diesem Ansinnen allerdings nur nachgeben, wenn Berenice ihn selbst erwählt. Bis das passiert, gibt es noch zahlreiche Verwirrungen und Verwicklungen. Am Ende erkennt Berenice, dass sie als Königin der Pflicht und nicht der Liebe folgen sollte, und gibt Demetrio für Selene frei. Nur Arsace geht leer aus und tröstet sich mit dem Glück Selenes. So gibt es am Ende zwei Paare und der Frieden mit Rom ist – zunächst einmal – gesichert.
Lassen sich die dramaturgischen Schwächen des Librettos auch nicht wegdiskutieren, unterstreichen die Solisten des Abends, dass es sich musikalisch bei diesem Stück um ein absolutes Meisterwerk Händels handelt. David Bates, der neben der musikalischen Leitung auch die Rezitative am Cembalo begleitet, fasziniert mit dem Ensemble La Nuova Musica durch einen transparenten Klang und arbeitet die Vielschichtigkeit der Partitur emotional und ausdrucksstark heraus. Dabei gelingt den Streichern ein subtiler Klang, der die Stimmungen der Charaktere differenziert aufdeckt. Mireille Asselin zeichnet die Titelpartie mit strahlendem Sopran in einer enormen Bandbreite. Ihre Auftrittsarie im ersten Akt, "No, ché servire altrui", in der sie sich der römischen Weisung, Alessandro zu heiraten, widersetzt, strotzt mit klaren Höhen vor Stolz und Selbstbewusstsein einer Herrscherin. Einen weiteren Höhepunkt stellt ihre kontrastreiche Arie "Sempre dolci ed amorose" dar, in der sie ein ausgewogenes Verhältnis zwischen Zärtlichkeit und Raserei fordert und diese beiden Gefühle mit großartiger Variation der Stimme ausschmückt. Wenn sie Demetrio dann im weiteren Verlauf als Verräter beschimpft, "Traditore, traditore", wird sie vollends zur Furie, was Asselin mit scharfen Koloraturen untermalt. Von einer ganz anderen Seite präsentiert sie sich dann im dritten Akt, wenn sie im Dialog mit der Oboe melancholisch in weichen Bögen die Launen der Götter beklagt. Am Ende zeigt sie sich dann in dem Largo "Avvertite, mi pupille" endgültig besiegt und ist bereit, der Staatsräson zu dienen und ihr Herz Alessandro zu schenken.
Anat Edri begeistert als Alessandro mit leuchtenden Höhen, die vor allem im strahlenden Schlussduett mit Asselin deutlich machen, dass Berenice und Alessandro zumindest musikalisch als Paar zusammengehören. Edris und Asselins Stimmen verschmelzen bei diesem Duett zu einer Einigkeit, die vom Publikum mit großem Applaus belohnt wird. Doch auch in ihrer großen Arie im ersten Akt, "Che sarà quando amante accarezza", wenn Alessandro von Berenices Liebe träumt, punktet Edri mit beweglichen Koloraturen in exorbitanten Höhen. Einen weiteren Höhepunkt stellt im zweiten Akt die Arie "Quell' oggetto che è caro" dar, in der Edri mit weichen Bögen erklärt, dass sie aus reiner Liebe bereit ist, auf Berenice zu verzichten, wenn diese einem anderen den Vorzug gibt. Ganz so einfach ist das natürlich nicht, da Demetrio (Michael Czerniawski) leider Selene liebt. Czerniawskis Countertenor verfügt über eine enorme Bandbreite von einer warm-timbrierten Mittellage bis zu strahlenden Höhen. So bildet sein Duett mit Asselin am Ende des ersten Aktes, in dem sie beide mit unterschiedlichen Vorstellungen die Rache besingen, einen großartigen Abschluss des ersten Aktes. Während Czerniawski den Demetrio im ersten Akt eher leidend zeichnet, dreht er im zweiten Akt dann auf, wenn er in der furiosen Arie "Su, Megera, Tisifone, Aletto" die Götter der Unterwelt heraufbeschwört, damit sie ihm seine Gefühle für die vermeintlich untreue Selene aus dem Herzen reizen. Hier begeistert Czerniawski mit stupenden Koloraturen, die dazu führen, dass das Publikum in seiner Begeisterung das Ende der Arie nicht mehr abwarten kann, bevor es in frenetischen Applaus ausbricht. Großartig legt er auch Demetrios Opferbereitschaft am Ende des zweiten Aktes an, wenn er im A-Teil mit zahlreichen Variationen auf dem Wort "risplenderà" aufwartet.
Giuseppina Bridelli verfügt als Selene über einen warmen, dunkel eingefärbten Mezzosopran, der wunderbar mit Czerniawskis Counter korrespondiert. Dabei entfaltet sie in ihrer ersten Arie "Gelo, avvampo, considero e sento" eine dunkle Dramatik, die ihre Angst wunderbar zum Ausdruck bringt. Aufhorchen lässt auch ihre Schlussarie im zweiten Akt, in der sie Arsace zurückweist. Hier entfalten sich ihre Rachegefühle in einem furiosen B-Teil, in dem Bridelli die Flexibilität ihrer Stimme in halsbrecherischen Läufen präsentiert, während der A-Teil eher sanft gehalten ist. Raffaele Pe hätte als Arsace stimmlich mit seinem Countertenor ebenfalls sehr gut zu Selene gepasst, so dass man schon fast ein wenig Mitleid haben kann, dass er am Ende leer ausgeht. Pe begeistert mit einer dunkel eingefärbten Stimme, die in den Koloraturen ebenfalls große Beweglichkeit besitzt. Einen Höhepunkt stellt seine Arie "Amore contro Amor" im zweiten Akt dar, in der er sich zwischen der Liebe zu Selene und dem Wunsch nach Ruhm entscheiden muss. Hier punktet Pe erneut mit flexibler Stimmführung. Großartig gelingt ihm auch das Duett mit Edri im dritten Akt, in dem er Alessandro bei seinem Werben um Berenice unterstützen will.
Aufhorchen lässt auch der Tenor Christopher Turner als römischer Gesandter Fabio mit zwei wundervollen Arien. Die erste steht direkt am Anfang und vergleicht die Motivation der Menschen mit den Bienen, die sich auf den Blumen niederlassen, die den meisten Nektar bieten. Turner punktet hier mit kräftigen Höhen und beweglicher Stimmführung, während die Streicher den Flug der Bienen lautmalerisch einfangen. Großartig gelingt Turner auch das kurze Arioso "Guerra e pace" im zweiten Akt, in dem er allmählich etwas ungeduldig wird, da Berenice nicht bereit ist, dem Ansinnen Roms zu folgen. Hier glänzt Turner mit sauber ausgesungenen Koloraturen. Timothy Dickinson rundet als Aristobolo das Ensemble mit solidem Bass ab, wobei seine Tiefen noch etwas ausbaufähig sind. So gibt es nicht nur am Ende jubelnden Beifall für alle Beteiligten. Auch während des Stückes hält sich das Publikum mit Applaus nicht zurück. Bedauerlich ist nur, dass es dabei nicht immer den letzten Takt der Musik abwarten kann, was zum einen für das Orchester bedauerlich ist, zum anderen auch Probleme für eine Einspielung auf CD bereiten könnte.
Thomas Molke – omm.de Fotos: © Peter Heller
The density of the plot is illuminated by the lightness of the music

At some time, one hopes, the convoluted plot of Handel's opera Berenice was half-ways comprehensible to the audience.  Obviously Rome is claiming hegemony over Egypt, because Rome has sent envoy Fabio to arrange for Prince Alessandro to marry Queen Berenice. Only, she fancies Demetrio, who fancies Berenice's sister Selene, who fancies Arsace. So, when Berenice rejects Alessandro, she tries to palm him off on her sister … Then there is the straight guy, Aristobolo, Berenice's counsellor, who appears every so often to give some much needed bottom to all these high emotions among the upper voices.
Or we could forget the plot and just enjoy the music, played with charm by La Nuova Musica, conducted with verve by David Bates, in a concert performance for the Göttingen International Handel Festival.
Of course, as Selene, Giuseppina Bridelli had an unfair advantage in an Italian opera. She did not just sing the words, she lived every consonant and vowel. And her second act aria Si poco è forte dunque la tua fede had a gorgeous dance-rhythm that just tripped along. Arsace, her affianced, was relatively passive – much of the time answering tutto farò …, effectively 'whatever', and perfectly suited to Raffaele Pe's high and light voice.  But he did not lack robustness for the more impassioned moments.
Alessandro was sung by Anat Edri – bright, forthright and blending well with Mireille Asselin (Berenice).  Edri impressed with the aria Quell'oggetto che è caro  followed by a delightful duet from Asselin and Michal Czerniawski (Demetrio).  In fact, Czerniawski was the stand-out performance of the night, his singing intelligent and beautifully judged.
Christopher Turner well conveyed the rising exasperation of Fabio with the politicking of the Egyptians. His Bee Aria, in Act 1, was accompanied by some very nice string-playing indeed. Timothy Dickinson's rich bass endowed Aristobolo with gravitas, not least when breaking the news that Demetrio has double-crossed her and is planning a coup to place Selene on the throne.
The orchestra was excellent, giving a rocking bass to Berenice's Sempre dolci ed amorose vocal flirtation with Demetrio. Chi t'intende? Berenice's duet with the oboe was enchanting, as was Selene's aria Tortorella, accompanied by theorbo and bass with delicate upper strings.
At the end, with Berenice persuaded not to kill Demetrio for his treachery, renouncing him to Selene and accepting Alessandro's hand, all joined in the final chorus, which showcased just how balanced the voices were.
Yes, the opera may have fallen into obscurity because of the plot. but, surely, there is scope for a staging, and making this score better known.
The performance will be broadcast by NDR on 12 June 2016 at 22:00 CET.
Catriona Graham – TheOperaCritic.com
---
St George's Hannover Square,
London Handel Festival
Berenice
17/5/16
Passion and scorn … Charlotte Beament gave a blazing performance as Berenice, queen of Egypt, during the London Handel festival.
First performed in 1737, Berenice is one of Handel's problem pieces. Unsuccessful in his lifetime, it was written during a period of overwork, entrepreneurial strain and ill health – Handel suffered a stroke shortly after completing it – and its unevenness to some extent reflects its awkward genesis.
The subject, quintessentially Handelian, is the relationship between "politics and love, those two great tyrants", as the text puts it. At the opera's centre we find Berenice, queen of Egypt, embroiled in a five-way emotional chain, each member of which is hopelessly attracted to another. This precarious configuration, and with it Egyptian political stability, is threatened by the queen's obsessive desire for the unpopular Macedonian prince Demetrio, while the Roman ambassador Fabio is determined that the Republic's hero Alessandro should marry into the Egyptian royal family – any available female member of which will seemingly do as the bride.
In adapting and cutting down a previously existing libretto, however, Handel reduced the narrative to near incoherence in places. And though it contains some superb numbers, stretches of the score fall below his usual inspirational level.
La Nuova Musica's concert performance under David Bates at this year's London Handel festival gave us a rare opportunity to hear it live. Bates, a stylish and committed Handel interpreter, made the strongest case for the piece, though some suspect string intonation near the start undermined the sensuality of the opening scenes. Charlotte Beament, all passion and scorn, blazed away as Berenice opposite Anat Edri's coolly poised Alessandro.
The real high points, though, came from Christopher Turner's Fabio, wonderfully cynical in his observations on the vagaries of desire, and from Michal Czerniawsi's Demetrio and Emma Stannard as Berenice's put-upon sister Selene: between them they have the best music in the score, and both sounded glorious.
Tim Ashley – The Guardian •••
taut and skilful playing
Handel moved to London in 1712, and the Church of St George, Hanover Square was consecrated in 1725: with its noble Georgian proportions (designed by an assistant of Wren himself, John James) and sumptuous Grinling Gibbons-style carved wooden altarpiece, the church looks and feels like a perfect place to listen to Baroque opera. To listen, but in the case of this rare performance of Handel's Berenice, not always to see: the unfortunate combination of James's hefty pillars, and director David Bates' decision to bring his singers out repeatedly in front of his orchestra, rather than keeping them massed on the sanctuary, meant that sight-lines were regularly obscured for some of us for prolonged periods, making this somewhat mobile concert performance quite a task for the imagination. However, taut and skilful playing from La Nuova Musica, conducted from the harpsichord with joyful dynamism by Bates, and some excellent singing, made for an evening of gorgeous music, if not dramatic excitement.
In fact, one of the main reasons Berenice, regina d'Egitto is so rare is its notable lack of dramatic punch. Despite some fabulous arias, it's not a magnetic evening. The plot revolves around Berenice's proud reluctance to accept Alessandro, a husband sent to the queen of Egypt as a political order by the Roman Senate; but, predictably, after a few misunderstandings involving love triangles with other people (including Berenice's sister Selene, the young nobleman Arsace and a local prince, Demetrio), Berenice and Alessandro do accept one another, though for true love's sake rather than diplomacy's. Cue a few arias about selfless love, the power of love, and how we all hate politics: so far, so predictable, but Handel's creativity here is all on the musical side, with some particularly intriguing arias for Queen Berenice, using unaccompanied moments to spinetingling effect. A little comic relief from the Roman envoy Fabio, and some world-weary wisdom from Berenice's retainer Aristobolo, complete the piece. It's no corker, and although nice to hear, doesn't need to re-enter the repertoire any time soon.
Charlotte Valori – Bachtrack.com
a vivid interpretation of a delightful score
Like much of his operatic canon, Handel's Berenice (1737) fell into obscurity and has never really emerged since. This is not wholly surprising given the contorted plot of conflicting and duplicitous manoeuvrings and the characters' romantic and political affairs (pitting ancient Rome against Egypt), which are not always made comprehensible by the pared-down, terse libretto. As almost always, however, that hardly restrained Handel's invention – there is enough musical interest to hold the attention over nearly three hours.
It gave rise on this occasion to a performance from David Bates and La Nuova Musica enlivened by their usual alacrity and alertness to the diversity of Handel's setting. Not the least important aspect was the urgent pace of the recitatives (and Bates's intelligent and imaginative harpsichord realisations) propelling this concert performance and giving it dramatic impetus. The solemn, even languid account of the Overture's Minuet (as though in deference to its comparative fame) and the stateliness of Act Three's Sinfonia (which foreshadows the Royal Fireworks Music) told all the more for a contrasting effect. With one to a part among the ensemble there was room for considerable dynamism and also a close cohesiveness. Hannah McLaughlin negotiated the oboe's eccentrically winding, chromatic lines in Berenice's aria 'Chi t'intende? O cieca, instabile' winningly, though Rodolfo Richter's violin solo in 'Vedi l'ape' sounded dry and the delicate image of a bee flitting from flower to flower was undermined.
Generally the singers met the demands of the drama on even terms, making for an engaging account of a work that can be static at times as the characters sort out their squabbles and misunderstandings. The soloists provided an additional theatrical dimension by moving around the venue somewhat more than I have seen there during this Festival in previous years: Charlotte Beament sang her first aria as Berenice from the pulpit, for example. As the Queen who imperiously wards off the romantic advances of Alessandro at first, she sang with formidable presence, though later revealing reserves of tenderness and human warmth, making a rounded person of the title role. Anat Edri's Alessandro was the opposite at first, sounding cool and too detached, but she developed, coming into her own with serenity and vulnerability, and finally innocence and purity by the time the drama resolved itself in her duet 'Quel bel labbro' with Berenice.
As the object of Berenice's affection, Demetrio (who is in love with her sister Selene) Michal Czerniawski successfully demonstrated all the versatility Handel calls for. On his first appearance, he expressed a yearning intensity (in 'No, soffrir non puo') which integrated ravishingly with the similar articulation of the solo violin, but he modulated his tone to convincing fury and scheming later on. We ought to hear him more in such castrato roles, whether in concert or on the stage. Emma Stannard sang Selene in a steady, consistent manner, whilst Timothy Morgan realised the part of Arbace (Selene's unrequited lover) fluidly and gracefully. If Christopher Turner's Fabio lacked some subtlety and finesse, Tim Dickinson exuded stern authority as the captain Aristobolo.
Handel would very likely have been startled to find his operas revived in his own parish church nearly three centuries after they were composed, but this proved no obstacle to Bates and his team in recreating a vivid interpretation of a delightful score.
Curtis Rogers – Classical Source

---
The Wigmore Hall, London
Orontea
14/12/15
Charm and invention brought buoyantly to life ****

Rupert Christiansen – The Telegraph
This was a highly enjoyable concert performance of Cesti's baroque opera
A few weeks ago at Shakespeare's Globe, I felt I had been locked into some terminal limbo of tedium. Clever men describe Luigi Rossi's Orfeo as a "masterpiece" of the Italian baroque, written during the 1640s, but it seemed to ignorant me nothing more than a stock romance with some irritating comic characters, clothed in insipid and monochrome music.
Everyone else loved it, however – so I thought, well, perhaps the idiom is just not my cup of musical tea. But here at the Wigmore Hall was another opera of the same school, composed contemporaneously within the same framework, which I found much more palatable……..
……..Anna Stéphany and Jonathan McGovern sang lustrously and stylishly as Orontea and Alidoro, their regal intensity contrasting with the lighter brighter tone of Mary Bevan and Michal Czerniawski representing the lower social orders.
Sam Furness gamely transvested as a lecherous old crone, and Christopher Turner did a nice turn as a comic pageboy.  Timothy Knapman provided a surtitled translation rather too liberal with vulgar doubles entendres, but no harm done.
It wouldn't feature on my operatic desert island, but there is much in Orontea to enjoy and admire.
This subversive opera is good, dirty fun ****
A concert performance by La Nuova Musica did superb justice to Cesti's erotic comedy about an Egyptian queen who falls for a handsome refugee painter
First performed in 1656, Antonio Cesti's Orontea was immensely popular in its day. Like much of the composer's music, however, it languished in obscurity for centuries, and the baroque revival hasn't accorded it the same status as the operas of Monteverdi and Cavalli. La Nuova Musica's concert performance under its director, David Bates – its first UK outing for decades – revealed it be a tremendous entertainment, though it has its flaws………
………La Nuova Musica, however, did it wonderfully well. Bates's conducting had superb poise, and the cast was impeccable, with not a weak link anywhere.
Bevan's and Czerniawski's ecstatic duets stood out, as did Edward Grint and Christopher Turner as a pair of unsavoury choric commentators, whose remarks punctuate the drama with delicious shafts of irony. The surtitles, pitched somewhere between Carry On film and Restoration bawdry, occasionally went over the top. Good, dirty fun, though, and a real treat.
Sensuality and vigour
"……….Bates leading from a harpsichord…….captured the music captured the music's sensuality and vigour and, from a small ensemble the cornett and recorder were wielded with flair by Gawain Glenton. The singing ranged from good to terrific. The baritone Jonathan McGovern was appealingly anguished as Alidoro…..Sam Furness was good value as the dragged-up tenor Aristea and Mary Bevan was in luminous voice as Silandra…….."
read the full article (you need an online subscription)

The performance was superb
……….In the title role, Anna Stéphany revealed a rich and strongly focused voice, while the baritone of Jonathan McGovern's Alidoro was firm, expansive and aesthetically pleasing. As Silandra Mary Bevan's lines were both sumptuous and precise, while as Corindo countertenor Michal Czerniawski literally wailed with despair in his brilliant performance of 'O cielo'. As Giacinta, Anat Edri had a sweet and clean soprano while as Aristea Sam Furness revealed a pleasingly light line at the top of his tenor range. Although this was a concert performance, Furness really went to town by donning a bright pink dress and dancing during his arias! As Orontea's advisor Creonte, Tibrino and Gelone respectively, Timothy Dickinson, Christopher Turner and Edward Grint all played their parts to the full.
The performance was in Italian with surtitles being projected onto the curved wall behind the Wigmore stage. Timothy Knapman's translation, which included lines such as 'you told the Phoenician to take a hike', 'The lady's not for turning' and 'I do not want a husband for my bed, So I am happy to stay unwed', may not have reflected the precise words to be found in Giacinto Andrea Cicognini's original libretto, but it seems safe to say that it effectively captured their spirit.
Claire Seymour – Opera Magazine
"………The conductor David Bates combined a light directorial touch with discerning appreciation of the work's theatrical qualities, generating a persuasive fluidity which was all the more impressive given that the singers were confined to a narrow strip of a stage platform crowded with the instrumentalists of La Nuova Musica. The latter provided sensitive support during the recitatives and enjoyed their opportunities to contribute to the drama of the arias.
The superb cast rejoiced equally in Cesti's strong lyricism and wealth of invention, and in the plot's chaotic complications, revealing themselves to be compelling vocal actors with a fine sense of both the musical style and comic traditions………..
Timothy Knapman translated Cigogini's bawdy, dynamic text into rhymed couplets, staying just the right side of courseness………..
The performance was a reminder of the wonderful experimentation that took place during the 17th Century. Satire mingled with sincerity and the natural human emotions spoke directly. Orontea set out to entertain, rather than instruct it's first audiences and we were duly entertained."
Hottest ticket in town!
Doundou Tchil – classical-iconoclast
The Wigmore Hall was packed for La Nuova Musica, presenting Antonio Cesti's Orontea………La Nuova Musica  have a reputation fore imaginative flair. This performance was vigorous, energetic, and above all fun, true to the composer and the audacious spirit of his time. The impact was magnified at with its warm, close acoustic…….Early audiences were given printed copies of the text, complete with candle attachments.  At the Wigmore Hall, we were helped by surtitles projected on the wall above the stage, in a free translation with rhyming couplets which apparently catches the irreverent spirit of the original.  From where I was sitting, I couldn't read a thing but that proved not to be such a bad idea, for the opera makes perfect sense when you stop worrying about literal meaning, and focus instead on the madcap delirium that soon becomes oddly engaging. Vocal performances were vivid, which helped a lot. In addition to the three principals above, Mary Bevan sang Silandra, Michal Czerniawski sang Corindo, Anat Edri sang Giacinta, Christopher Turner sang Tibrino and Edward Grint sang Gelone, the amiable drunk.
Orontea loves you/loves you not
In 1656, composer/singer Antonio Cesti and librettist Giacinto Andrea Cicognini (with some help from Giovanni Filippo Apolloni) packed a whole soap season worth of twists and turns into 2 hours. Maybe you – like me – have never heard of it before, but Wiki assures us that it was one of the most popular operas of the 17th century. Maybe you're a big JDD fan and have heard Intorno all'idol mio on her Drama Queens album. It has been recorded by other mezzos as well, though Wiki says Orontea is was in 1656 a soprano role. Let's conclude that the 1600s are the new 1700s.
The story starts with Orontea (queen of Egypt) proudly boasting that she doesn't need a man in her bed…..
---
The Wigmore Hall, London
Bejun Mehta Recital
30.11.15
"At the same time, Mehta's piping pirouettes, dulcet in the pianissimo mode but with a metal edge when the volume is increased, faced stiff competition in beauty and fire from his accompanying musicians, David Bates' La Nuova Musica.
For all Mehta's art during Alessandro Scarlatti's Perchè tacete, especially in it's lullaby aria, it was the instrumental spectacle that grabbed me. Two violins chased each other's tails; harmonies lived dangerously. Everyone too, here and throughout, played with such rich tone and gusto. Listening to Biber's third suite from his collection Mensa Sonora was like eating Christmas Pudding."
Geoff Brown *** The Times 1 December 2015
"The Italian solo cantata, and the ways in which it was taken up and adapted in Germany and Britain in the late 17th and early 18th centuries, provided the substance of countertenor Bejun Mehta's recital with the ensemble La Nuova Musica. But despite its apparently didactic theme, the evening never threatened to become a dry lesson in baroque musicology; Mehta is far too relaxed and compelling a performer ever to seem remotely academic……..it was a wonderfully democratic evening of music making on the highest level……" Read the whole review
Andrew Clements – The Guardian 1 December 2015
"The American countertenor Bejun Mehta exhibited a considerable range of vocal colours, refined phrasing and spectacular virtuosity in this programme of Baroque cantatas and arias, with La Nuova Musica, under the direction of the ensemble's founder, David Bates.
As they explored the Baroque Italian cantata, on the genre's journey from its homeland, across Europe to England and Germany, Mehta also communicated an infectious enjoyment and enthusiasm. And, considerable pleasure in making and performing this music — its sentiments amorous, its articulation dramatic — was evidently shared by all the collective musicians…..
Mehta's tone was rich and replete with sensuous allure, and the climax of the cantata, the tender lullaby 'Dormi, ch'il mio dolor/Nenia al tuo sonno' (Go to sleep, but know at least that I die for you) was gorgeously seductive. Mehta's control of musical line and dramatic peak was impressive, and the emotional intensity was extended by the tender, thoughtful instrumental contributions. There was an almost Monteverdian piquancy about the chromaticisms, and the delicacy of the violins in the instrumental postlude were a wonderful representation of the protagonist's closing assertion that, after the fierce attacks which have assaulted his heart, 'La mia piaga proverà/ Men crudo il duol' (My wound will make my sorrow less painful)……The recital closed with Handel's 'Yet, can I hear that dulcet lay' from The Choice of Hercules. Though the text of this rare English cantata by the composer seems to have possessed little to inspire Handel, there are momentary beauties — including this number in which Hercules refuses Pleasure's offer of the blisses of Elysium. Mehta and his fellow musicians wonderfully drew forth the subtleties of this aria, and lulled us into peaceful contentment. Read the whole review
Claire Seymour – Opera Today

---
St John's Smith Square
Handel – Acis and Galatea
"Pathos, bathos and balmy breezes ebb and flow in Handel's "little opera" of 1718, Acis and Galatea. Composed for performance on a terrace at the Duke of Chandos's estate, it mirrors the delicious artifice of the 18th-century garden. The duke had engaged a Huguenot hydraulic engineer to design his gardens. How perfect, then, to commission an entertainment in which a semi-divine nymph transforms her murdered lover into a fountain.
In keeping with the duke's spendthrift aesthetics, David Bates and La Nuova Musica engaged the parfumier Sarah McCartney to decorate their performance with scents grassy, musky and, for the lustful giant Polyphemus, as acrid as the aftershave of a loan shark on the pull. The olfactory novelty wasn't necessary in a reading that sparkled from the giddy overture to the consoling final chorus.
Directing from the harpsichord, Bates identified every detail that lovers of this work may have noticed on previous listening, bringing them to the fore, weaving them back into the texture, then pulling out another golden thread.
Led by Bojan Cicic, the orchestra produced a dizzying variety of dynamics and articulation: crisp, tender, witty, flirtatious and audacious. There were bold innovations (three cellos harmonising a recitative), honeyed obbligato solos from the oboist Leo Duarte and the recorder player Sarah Humphrys and tempos that skittered and swung seductively.
Most impressive was the pin-drop silence at the death of Ed Lyon's virile, ardent, immaculately sung Acis. This was a beautifully cast consort performance, as elegantly shaped in the five-part chorus Wretched lovers as it was in the arias.
Stepping in for Katherine Manley, Augusta Hebbert sang Galatea's arias with an unruffled, creamy tone and opulent decorations. The tenors Rupert Charlesworth and Nicholas Scott charmed as pragmatic Damon and foppish Coridon, while Christopher Purves was magnetic as the brutish, love-sick, furious Polyphemus."
Anna PicardThe Times – 5 November 2015
"……..The opening Sinfonia set the template for the rest of the evening: daringly breakneck speeds with more than a dash of mischief. The twinkly-eyed sense of fun engendered by the smiling instrumentalists was quickly taken up by a top cast of singers: tenor Ed Lyon as Acis, soprano Augusta Hebbert (replacing an indisposed Katherine Manley) as Galatea, bass Christopher Purves as the giant Polyphemus, and tenors Rupert Charlesworth and Nicholas Scott as Damon and Corridon.
Each soloist contributed dazzling decorations to their da capo arias, particularly Lyon, who hung what seemed to be endless strings of semiquavers over the repeat in Love sounds th'alarm as he resolved to do battle with the giant who had assaulted his Galatea. Purves was hilariously macho as Polyphemus, rolling up his sleeves, unbuttoning his shirt and leering across the stage at Galatea while transforming the lumbering O ruddier than the cherry into a nimble showstopper. Damon offers virtuosic words of caution to Acis about the wisdom of taking on a dangerous tyrant, but it's too late: the giant kills poor Acis and the whole bucolic idyll turns into a lament for lost love. This would have been the moment that a harsher fragrance could have made its mark but I could not detect any change in the air. No matter: singing and playing of this quality have a heady perfume all their own…….."  Read the whole review
Stephen Pritchard – The Observer – 8 November 2015
"………Ed Lyon sang Acis, Even by the standards we're used to hearing from him, this was a delicious performance. He was singing with evident relish, his ornate lines shaped with panache, his delivery natural and direct. His face is full of character.  Makeup and costume would almost have got in the way, for this Acis felt like a real person.  The duet "Happy We!" positively glowed.  After that, high point, Polyphemus (Christopher Purves)  dominates proceedings, but Lyon's Acis fights back. The trio "The flocks shall leave the mountain" was enunciated with the sharp thrusts of battle. When Acis died, Lyon's voice  descended into haunting diminuendo – very moving.
Nonetheless, Christopher Purves did come near stealing the show.  He, too, has a voice that exudes personality, so his Polyphemus, though a fanciful villain, was witty, even lovable. "I rage, I melt, I burn,",Purves sang, his chest puffed up in mock swagger.  Billows of scent heralded his "O ruddier than the cherry.". Because the smells were subtle rather than oppressive, one paid attention when they emanated an intriguing mix of sulphur, earth and water mint.  In a staged performance, we might encounter smoke and such effects. Here, we visualized  using our imaginations.
Galatea was sung by Augusta Hebbert, substituting at short notice for Katherine Manley. Hebbert has been singing with La Nuova Musica for several years, so she fitted in seamlessly.  By the end of the evening, when Galatea is bereft and the masque revolves around her, Hebbert showed her mettle: a very lovely "Heart the seat of soft delight" ,her voice reflecting the characteristic swaying  between crescendo and diminuendo that gives Acis and Galatea such charm.  This rhythm lends itself to dance. Rupert Charlesworth sang Damon and Nicholas Scott sang Coridon.
When the Royal Opera House did Acis and Galatea with Christopher Hogwood some years ago, the singers were shadowed by dancers. No such resources at St John's Smith Square, but La Nuova Musica played with such vivacity that one could dream dance. Neither did the absence of a formal chorus make much difference.  Singers and orchestra interacted so well that the music communicated with freshness and conviction.  At St John's Smith Square, you're so close to the musicians that you feel part of the proceedings.  Particularly good playing from the leader of the violins and from the oboist whose part feels even bigger in what appears to have  been somewhat reduced instrumentation.  The oboe leads, but is supported by recorder, also doubling piuccolo to create the image of a shepherd's pipe………"   Read the whole review
Classical-iconoclast.blogspot.co.uk – 4 November 2015
---
San Pietro, Perugia – Sagra Musica Umbria
Handel – Dixit Dominus, Bach – Motets
Ancient and profound emotions in the Basilica of St. Peter
The 70th edition of the Sagra Musical Umbra opens to the joyous notes of "La Nuova Musica".
"Yesterday at nine in the evening there was a very moving opening at the SAGRA MUSICALE UMBRA in the Basilica of St. Peters. This event, with all the fantasy, the enthusiasm and the incredibly high professional quality of the vocal  and instrumental ensemble " La Nuova Musica"  was conducted by DAVID BATES.  There was Handel's firery psalm "Dixit Dominus"  which had been composed originally in Rome in the first years of the 18th century and then some of Bach's motets which  also, in some cases, were based on the book of psalms.
According to Pier Paolo Pasolini the "Siciliana" from Bach's violin solo is   "pure loving without love, almost an expression of the hermaphrodite" !
In this delicate mood of meditative melancholy the 70th edition of the Sagra Musicale Umbra opened in the traditional basilica of San Pietro, a "Bethlehem" for Perugia's music.
This  was an unusual way of opening the greatest musical manifestation of the region, with a small choral and instrumental ensemble, La Nuova Musica from London, lined up on the steps of the transept, and so it announced a very specific type of approach.
Given that everything that comes from London "has to be good" the body language of the young conductor, David Bates – a sort of spiralling hurricane flowed through his arms and hands –  revealed itself to be extremely communicative. Bach and Handel inaugurated the event in the basilica which was filled with an audience that was only too happy to be captivated and even amused.
In the first part of the evening, a collection of  Bach motets – some of them, the most Lutheran  ever to be composed, requiring complex listening – were interspersed with instrumental solos. We heard the already mentioned "Siciliana" played in a philological way by Bojan Cicic, a prelude to the suite in G major for cello interpreted by Jonathan Rees and an aria from the  Fourth Chord by the whole ensemble. The four motets, amongst which the implacable "Singet dem Herrn " unfolded along almost joyful lines, with accentuated rhythm and a definite propensity to follow Bates' required expressiveness. The twelve  accomplished singers responded  by  opening to cover a wide expanse of timbre  often with rich  vibrating  vocal  strength.
All this gave  extraordinary warmth and good humour to the Bach, and was the  direct consequence of Bate's particular choice, he is, as we know,  a lover of Italian Baroque from Monteverdi to Cavalli. This choice  was further underlined,  in the second part of the evening, with the Roman Haendel and a particularly  wild and gritty  signature to the Dixit Dominus.
We remember the importance of those three years that Handel spent among the cassocks of the capitoline cardinals. How as  a young Saxon musician, he was determined to make his way through the difficult  Italian music market, and ready to challenge as a Lutheran and a German his rivals on their own home ground.
With surprising perfection in the end – Italian full blooded  passion that reaches just the right level, and is mixed with a  sort of "savage" spirit- this burning psalm allowed Haendel to  appear before  his audience, the roman curia, with all the aggressiveness of a modern day rock star!
With overwhelming rhythmic results, a sort of "hard" frenetic pulse, the Davidic text was endowed with ferocious strength and righteous indignation. The singers, the particularly shrill almost Wagnerian  sopranos especially, did not hold back from the agitation that Bates was demanding, and perhaps with too much youthful energy he banged rather hard on "Tu es sacerdos" almost turning  it into a parody. After the "Conquassabit" that reminded one of a real Zaloti march, two female voices in the "De torrente" brought back  to life all the sensual and  the carnal  that we can always find in Haendel's music. This was  preparation for a triumphant "Gloria Patri" played at supersonic speed to sure and utterly convincing applause."
Il Giornale dell'Umbria – 13 September 2015
---
Spitalfields Music Summer Festival 2015
Leçons de ténèbres
"…….The performance featured La Nuova Musica, an ambitious and relatively new Baroque ensemble, joined by two of Britain's top sopranos. It was a pleasure to see Lucy Crowe, who recently performed in David McVicar's Carmen at Glyndebourne, in this intimate, novel setting. Singing the first of the three Leçons, Crowe's acclaim as an international opera star was evident in her command of dynamics and characterisation; the purity of her higher register was offset by the tormented, near faltering effect she produced in the lower passages.
Known now primarily as a master of harpsichord composition, Couperin was a famous pedant when it came to ornamentation, meticulously specifying in his scores what was usually left to the discretion of the performer. Crowe's technique, which could achieve definition between notes in the closest of runs, was perfectly suited to the composer's more mannered flights.
Singing the more interesting of the two solo Leçons, Elizabeth Watts's wonderfully liquid, unforced tone highlighted the best of Couperin's writing, and the singer could bring aggression to the more psalmic passages. The final of the three Leçons, which brings both sopranos together, is rightly admired, and the evening reached its peak when Crowe and Watts's voices flickered in harmony during one of the composer's extended flourishes.
La Nuova Musica's historically accurate accompaniment, comprised of a viol and arch-lute with founder David Bates at the organ, was well judged, producing crisp, confidential sound. But to emphasise the secular aspect of the music (and also perhaps to pad out what would otherwise amount to only 40 minutes of music) La Nuova Musica interspersed Couperin's pieces with trio sonatas by the French theorist and self-taught composer Sébastien de Brossard. These were charming but unnecessary. The chance to see such a high calibre of singers, stripped of the sumptuous trappings of international opera halls or country house festivals, was enough.
Jonathan McAloon – 9 Jun 2015
The Telegraph
"Nostalgia is not what it used to be, goes the joke. Nor is lamentation. François Couperin composed nine Leçons de Tenebres in 1714, great chunks of the prophet Jeremiah for voice and the sparest of accompaniment, intended to focus the mind in the lead-up to Easter.
Only the first three survive, the ones for Holy Wednesday, and while you can only imagine what excesses of grief and despair were meant to be sung on Thursday and Friday, what's left certainly packs a powerful punch.
It's also about 45 minutes long, which can be scheduled before or after supper – at least that seemed to be the idea offered by the Spitalfields Festival on an unholy Monday in Shoreditch.
David Bates, the director and founder of La Nuova Musica, made two astute decisions in this intense and intensely rewarding performance. First, he separated each Leçon with palate-cleansing instrumental music from Sebastian de Brossard, stylishly done, allowing some respite from the many and various torments of Jeremiah's Jerusalem. Secondly, in Lucy Crowe and Elizabeth Watts, he fielded two sopranos with voices far from the milky sound much loved by today's early-music gurus.
The result, in the relatively stygian gloom of the Village Underground, was much more than sober devotional. Crowe – brilliantly precise of pitch, superbly dramatic in expression and virtuoically varied in her dynamics – brought the focus of a baroque tragedienne to the opening Leçon. Watts, singing the second set with a fuller, not always securely sustained, tone, was more histrionic, to the extent that the poise and focus of the music felt overwhelmed.
The final extant Leçon saw the sopranos come together, the interlocking of the two voices less seraphic than raw and dissonant, yet the sum effect was exhilarating as well as despairing. Couperin certainly knew how to write a good old whinge.
Neil Fisher – 11 June 2015
The Times
Israel In Egypt
"Although there was certainly wonderful energy and momentum – not least in the continuous succession of choruses in Part One describing the plagues in Egypt – Bates and his musicians were constantly alive to the dramatic details of Handel's setting […] Bates' approach was consistency, successfully sustaining drive and élan, and enthralling us as a result. Bates also brought out a range of colours from the chorus and orchestra […] rare and impressive combination of technical accomplishment and vigorous inspiration in this interpretation overall. If only all Handel performances were this engaging.'
Curtis Rogers – 7 June 2015
www.classicalsource.com
'Using just 20 singers, all young adults with mainly men on the alto line, and an orchestra of 26, David Bates took advantage of these smaller forces to get a higher degree of control in the music. This ensured that all of Handel's brilliant depictions of the plagues were vividly done. There was a sense that each vocal or choral timbre, colour or texture was taken to its ultimate. Accented notes were crisply firm, legatos were very smooth, attack was vividly brilliant and the quietly sustained choral passages were very intense […] Handel used his full armoury of tricks in this work, and David Bates' eye for detail ensured that none of them were missed and all registered brilliantly […] It was clear that David Bates and all his performers drew intense satisfaction and enjoyment from this attention to detail. The result was very involving, with a superb sense of élan.'
***** Robert Hugill – Friday, 5 June 2015
www.planethugill.com
---

An interview which our artistic director David Bates did with with Caiti Grove for Country and Town House Magazine
---
Salisbury Cathedral
" the duets were gorgeous and transfixing and the quality of the singing was largely excellent throughout an accomplished performance."
Matthew Stadlen – 5th June 2015
The Telegraph
---
The Times March 2014
"If anyone can be relied on to make Baroque music sound newly hatched, it's the aptly named ensemble La Nuova Musica. They dust out the tiniest corners and crannies of phrasing and embellish the music so that it sounds more dizzy with life than you've ever heard it."
Hilary Finch of The Times reviews our recital with Tim Mead (countertenor) and Bojan Cicic (violin) in the London Handel Festival
---
L'Issipile at Wigmore Hall achieves critical acclaim
La Nuova Musica's debut concert at Wigmore Hall, a ground-breaking performance of Conti L'Issipile (1732), received universal critical acclaim.
"From La Nuova Musica and David Bates [L'Issipile] got the best possible revival… That a long evening literally flew by was thanks both to these stunning performances and to the brilliance with which Bates marshalled his forces, letting each instrument sing out in high definition. No show-stopping aria, but much Handelian bewitchment; will they now stage it? Why not?"
*****Michael Church, The Independent
"A knock-out performance… Bates and La Nuova Musica go from
strength to strength."
**** Tim Ashley, The Guardian
"This outstanding and utterly absorbing performance by La Nuova Musica and a stellar set of soloists made for a thrilling musical evening… The fourteen instrumentalists, led from the harpsichord by founder and director David Bates, produced playing of fleetness, vivacity and charm. The Sinfonia epitomised the perfectly synchronised panache of the strings' Italianate lines, and the striking contrasts of dynamics suggested the surprising twists and turns of the drama to follow… Concert performance this may have been, but the drama was transfixing. The three hours whizzed by."
Claire Seymour, Opera Today
"Francesco Bartolomeo Conti's L'Issipile really does need, not just "the four greatest singers in the world" as Caruso famously remarked about the requirements for Trovatore, but six of the greatest exponents of the baroque singing style – not to mention a first rate band under exacting yet sympathetic direction. We got all of that, so much so that the near-standing ovation came as no surprise."
***** Melanie Eskenazi, MusicOMH
---
Reviews for LNM Recordings
A Royal Trio
**** "exceptionally well thought out … Zazzo [is] in glorious voice throughout."
Nicholas Kenyon – The Observer, 19th October 2014
*** "[Zazzo] has brought a wonderful and unusual collection of music together here. Exploring beyond the usual Handel standards, he finds some exceptional arias, both from the composer's own lesser-known works (try Admeto for exquisite surprise after surprise) and those of his rivals. David Bates and La Nuova Musica offer deft support, at their best in the orchestral overtures and sinfonias where they can stretch their stylistic legs…"
Alexandra Coghlan – Sinfini Music, 14th October 2014
***** "The results provide us with a fascinating insight into the musical world of the London opera house in the 1720's and help to provide a more balanced view of Handel's work …  Lawrence Zazzo and David Bates have some up with something a little more imaginative, and give us a wide selection of styles from the simply elegant to the bravura. Zazzo is on peak form and combines the requisite virtuoso fireworks with an elegant sense of line (very necessary in the Bononcini), and all with a lovely warm tone. He is well supported by David Bates and La Nuova Musica, who give stylish support and provide a lovely involving performance. This is certainly one of those discs which I will come back to."
Robert Hugill – Planet Hugill, 9th November 2014
EDITOR'S CHOICE
"as Lawrence Zazzo and David Bates's superbly responsive period band confirm, the two Italians were were skilled operatic professionals whose best numbers could easily pass for Handel … A natural theatre animal, Zazzo 'lives' each phase of the grieving accompanied recitative, always alive to the sound and meaning of the words, and phrases and colours eloquently in the aria that follows … I enjoyed this snapshot of London's operatic life almost without reservation. Zazzo and the players – not least the fabulous horns – have all the boldness and virtuoso panache one could wish for in the extrovert arias"
Richard Wigmore – Gramophone, November 2014
"an operatic power house in London which, along with Lawrence
Zazzo's genius as a countertenor, is the inspiration for this CD. Indeed, Zazzo's genius as a countertenor are immediately displayed with his vigorous interpretation of Handel's 'Rompo I lacci' from Flavio … Each piece showcases the sheer skill of Lawrence Zazzo and the demands placed on his voice."
Michael Schwartz – The Whole Note, November 2014
**** "[Zazzo gives] committed and dramatically excellent renditions of these roles. The surround sound is outstanding, and the production values rank with harmonia mundi's best, which is always considerable."
Steven Ritter – Audiophile Audition, 11th November 2014
"This is an exceptionally interesting and well researched release … The playing is superb throughout"
Alastair Harper – Early Music Review, December 2014
Sacrifices
"Without the harrowing visual element one can more easily appreciate how intensely moving these cantatas are in their own right. Sacrifice may be the theme but sensuality predominates. Beautiful, cleanly etched singing and playing"
Richard Morrison – The Times, 26th July 2014
**** "Bates, one of baroque music's rising stars, presents three fine 17th-century sacred pieces. First there's the delicious expressivity of Marc-Antoine Charpentier's Le Reniement de Saint Pierre and Sacrificium Abrahae, then the climax is a dramatic reading of Giacomo Carissimi's oratorio Historia di Jephte. The effect of Bates's performance is immediate, his relish of the agonising clashing harmonies in the lamenting final chorus irresistible."
Stephen Pettitt, The Sunday Times, 31st August 2014
"A feast for those who love French baroque music … Recorded sound beautifully captures the warm acoustics of the venues, and profuse program notes and complete texts add to this outstanding issue."
Robert Benson – Classical CD Review, August 2014
"The recording itself has the quality of a live performance. Crucially, Bates brings to the fore the dramatic qualities of each oratio … Bates always keeps a sense of pace in the long lines of this music, gloriously in the finale of Charpentier's La Reniement de Saint Pierre. The ensemble singing is unconstrained and nothing short of radiant, and the de Brossard instrumental pieces offer both balance and the instrumentalists of La Nuova Musica the chance to bring colour and vibrancy to the record."
Tim Woodall, Early Music Today, September – November 2014
"The soft-edged clarity of this smoothly sonorous recording is a tasteful foil to the high levels of emotion, definitely and effectively conveyed by an excellent cast."
Rebecca Tavener, Choir & Organ Magazine, September – October 2014
"A neat idea this … Sophie Junker is…strikingly powerful. This is a disc of much promise from a generation of British Baroque performing talent."
Lindsay Kemp – Gramophone Awards Issue, September 2014
"beautifully performed … All three pieces…are a pleasure to hear, performed as they are by skilled and experienced members of this excellent ensemble … The line-up of singers here is impressive and gives all the colour and drama needed … Charpentier and Carissimi have established reputations to which this lovely issue simply adds lustre. Buy this, sit back and enjoy."
Dave Billinge – Music Web International, 22nd October 2014
**** (performance)
***** (recording)
"Youthful voices and transparent instrumental textures capture both the intimacy and the immediacy of the music … felicitously played and expressively shaded by this fine team of players."
Kate Bolton – BBC Music Magazine, November 2014
---
The Times December 2013
Passion, energy and enthusiasm go a long way with me. There was much more besides in this Spitalfields Music Winter Festival concert by the American countertenor Lawrence Zazzo and David Bates's periodinstrument group La Nuova Musica. The overwhelming impression, however, was of performers so clearly enjoying their repertoire – Handel and his older contemporaries Corelli, Ariosti and Bononcini – that only the congenitally churlish would resist being wafted along on their cloud of exuberance. ****
Richard Morrison The Times reviews The Royal Trio / Lawrence
Zazzo at the Spitalfields Winter Festival
The Guardian December 2013
A match made in Handel heaven [Larry] Zazzo and [David] Bates work uncommonly well together. Both
are enthusiasts, conveying tangible glee in what they do… La Nuova Musica played with a sensuous immediacy that was utterly beguiling…Bates [was] imperious of gesture… A treat from start to finish." *****
Tim Ashley The Guardian reviews The Royal Trio / Lawrence
Zazzo at the Spitalfields Winter Festival
Classicalsource.com, March 2013
…rewarding and stimulating…the vocal virtuosity required was flawlessly realised… rarely can such moralising have been so enchanting!
Curtis Rogers reviews Handel Il Trionfo del Tempo at the London Handel Festival
Bachtrack.com, March 2013
…the hall erupted in deserved applause from a moved but joyful andmost privileged audience.
David Fay reviews Bach St John Passion at St George's, Bristol
The Times, January 2013
That sense of the composer's adaptability was intensified by Bates and La Nuova Musica's zesty approach, particularly in the Orchestral Suite No. 1 in C and the lovely C minor Concerto for violin and oboe. Rhythms had a French, balletic twist; the quality of the string sound was earthy and Italianate. As conductor-cum- harpsichordist, the flamboyant Bates cuts a Wodehousian figure, but there's no artifice or pretence in the directness of expression that he is aiming for.
Neil Fisher reviews BACH UNWRAPPED at Kings Place.
venue.co.uk, November 2012
…among today's new generation early music ensembles, few know how to bewitch as potently as David Bates' La Nuova Musica. Their pre-Christmas Messiah at St George's last year was as fresh as it was revelatory, and they set the bar high for this rematch. To judge by the cheers it was a bar cleared without breaking sweat…
Paul Riley reviews ACIS & GALATEA at St George's, Bristol
Bachtrack.com, November 2012
…this was an utterly delightful performance of a gem of a piece…
David Fay reviews ACIS & GALATEA at St George's, Bristol
Reviews | La Nuova Musica http://lanuovamusica.co.uk/reviews/
The Independent, June 2012
Directing from the organ, with instrumental interpolations drawn from Sebastien de Brossard's violin music (soloist Bojan Cicic), David Bates savoured slow tempi and luxuriant textures. Among the soloists Mark Chaundy's fiery Jephthah and Simon Wall's mellifluous Abraham were outstanding. The overlapping dissonances of "In carmine doloris" were dizzying in the generous acoustic of ShoreditchTown Hall, underpinned by the baleful seam of cello, theorbos, lirone, organ and harpsichord.
Anna Picard reviews SACRIFICES at the Spitalfields Festival
Evening Standard, June 2012
A tiny band of musicians, directed by David Bates, provided subtle orchestral colour of often heartbreaking poignancy while seven singers doubled as soloists and chorus. The small-scale forces lacked nothing in pathos, the acoustic of Shoreditch Town Hall resonant enough to fill out the sound without swamping it. On purely musical terms this was often exquisite…
Nick Kimberley reviews SACRIFICES at the Spitalfields Festival
venue.co.uk, December 2011
With the band living every moment as if lives depended on it (how often does your ear usually find itself drawn to the cellos in Messiah?), and most of the audience literally on the edge of their seats, not merely listening but taking part vicariously, the raucous standing ovation at the end was pretty much guaranteed.
Paul Riley reviews Handel Messiah at St George's, Bristol
The Guardian, December 2011
With the energy level generally extremely high, and the band ripping into the accented rhythms in the bass's Why do the nations…? and the tenor's Thou shalt break them, small was not just beautiful but absolutely compelling.
Martin Kettle reviews Handel Messiah at the Spitalfields Winter Festival
The Times, December 2011
Thanks to the inspired direction of David Bates this was to be musicmaking of an undogmatic, long-pondered intelligence, generously yet undistractingly ornamented, and with the small band minutely sensitive to its interplay with the human voice.
Hilary Finch reviews Handel Messiah at the Spitalfields Winter Festival